If you're looking for a lake getaway in Virginia whether for a day or an entire week, here we're covering all the best lakes so you can find the perfect one for you.
Virginia has so much natural beauty and there is nothing like a lake vacation to get you to get you reset and recharged!
These Virginia lake getaways are perfect for your next vacation.
Whether you're looking for an adventure or simply want to unwind, the gorgeous lakes of Virginia offer an ideal escape from the hustle and bustle of everyday life.
From the crystal-clear waters of Smith Mountain Lake to the serene beauty of Lake Anna, we're covering all the best lake getaways here.
Let's take a closer look at some of the best lake getaways in Virginia, exploring the unique features and attractions of each.
So pack your bags and get ready to experience the natural beauty and tranquility of Virginia's lakes.
#1 Claytor Lake State Park
Claytor Lake State Park, nestled in Pulaski County, Virginia, offers a serene and picturesque getaway for nature lovers and adventurers alike.
The park is set on the shores of Claytor Lake, flanked by the Blue Ridge Mountains and the New River, providing visitors with stunning views, sandy beaches, and a wealth of outdoor activities to enjoy.
Visitors can explore miles of hiking trails, go horseback riding, or discover the New River Trail.
On this 4,500 acre lake, you'll have access to boat ramps and a full-service marina with lots of water activities like:
Water skiing
Pontoon boating
Jet skiing
Stop by the historic Howe House to see interactive exhibits about the area's ecology.
Like to Fish?
Fishing enthusiasts can cast their lines in Claytor Lake, home to Smallmouth, Largemouth, and Spotted Bass, also known as "black bass." To protect the fish population, catch-and-release is encouraged for large fish.
The Visitor Center and Gift Shop are also available for visitors to learn more about the area's history, though their operating hours may vary.
The park also features:
Beautiful lake views from the gazebo
2 good-sized playgrounds
A fire ring for great campfires
Spacious and well-maintained campgrounds with gravel surfaces, picnic tables, and fire pits
For those seeking extended stays, vacation rental cabins of varying sizes are available.
Note: Visitors can also bring their own grill and pets, as the park is dog-friendly, with pets allowed on a leash.
#2 Smith Mountain Lake
Smith Mountain Lake State Park home to the the second largest lake in the state, Smith Mountain Lake, a lake near the Blue Ridge Parkway.
If you're looking for a beautiful mountain lake, this is your spot!
Smith Mountain Lake is an ideal destination for nature lovers and adventure seekers, offering stunning vistas and a wide range of recreational activities.
Visitors can indulge in a variety of water and non-water activities like:
Swimming
Boating
Fishing (also has a fishing pier)
12 sandy beach areas
Boat launches
Boat rentals
Over 13 miles of hiking and mountain biking trails
You'll also find a campground with 50 campsites, suitable for both tent and RV camping, making it an ideal destination for an extended family vacation.
This is such a beautiful spot in the Roanoke River Valley to be in nature where you'll find:
Designated wildlife observation areas
Interpretive programs
Special events throughout the year from bird-watching to stargazing
Visitors can also take advantage of the park's dog-friendly atmosphere, with pets allowed on a leash.
Local tip: the state park has some nature programs that go out on a pontoon boat.
#3 Lake Anna State Park
Lake Anna State Park is one of Virginia's largest freshwater lakes.
This is definitely a popular destination as it's family-friendly. Situated in Virginia, the park offers a charming blend of scenic beauty, outdoor activities, and rich history.
Here you'll find:
Fishing pier
Playground
Picnic shelters
Hiking / Nature Trails
The lake is perfect for swimming, boating, and fishing, with easily accessible fishing ponds and a bathhouse-concessions facility.
Local tip: there are some nice rentals with a hot tub here!
Did You Know?
Lake Anna even has a fishing pond next to the lake that has been designed specifically for kids and disabled people. You can access the dock from a private dock dedicated for the lake.
The park also offers plenty of opportunities for relaxation and family fun.
Lake Anna State Park offers a variety of accommodation options, from campsites to vacation homes and lodges, many of which offer stunning lake views.
The gift shop is a great place to grab souvenirs or learn more about the park's amenities and activities.
#4 Kerr Lake
John H. Kerr Reservoir, also known as Buggs Island Lake, is a sprawling lake that spans across the Virginia-North Carolina border and is the largest lake in the state, covering over 50,000 acres of water.
It's actually located in Occoneechee State Park.
Interesting Fact…
Kerr Lake happens to be Virginia's largest lake
With over 800 miles of stunning shoreline, this outdoor paradise caters to both thrill-seekers and relaxation-seekers alike.
If you enjoy fishing, the lake is home to a thriving fish population, including largemouth bass, catfish, and crappie.
There are also plenty of water coves and islands to explore by boating, swimming, or kayaking. 
Why Visit?
Nature / hiking trails
Water sports
Fishing
Campground
Campers have a range of scenic campgrounds to choose from, which are perfect for a peaceful escape or a fun-filled family getaway. The campground and restrooms and clean and well-kept. There's also a nice playground for the kids.
Local tip: the visitor center is also worth checking out, as it has some water exhibits.
#5 South Holston Lake
South Holston Lake, nestled in the heart of the Appalachian Mountains, is a true gem waiting to be discovered.
This picturesque lake offers the perfect blend of Southern charm and outdoor adventure, making it an ideal destination for a family vacation.
Why Visit?
Boat ramps for water skiing, pontoon boats and jet skis
Fish opportunities including large and smallmount bass
Annual fishing tournaments
Camping
Hiking
Swimming
There is also an annual spring migration of white bass in the South Fork Holston River.
#6 Bear Creek Lake State Park
Cumberland, Virginia
Bear Creek Lake State Park is a charming 326-acre state park with a 40-acre lake, and is the perfect destination for families seeking a peaceful and picturesque getaway.
The park has a variety of outdoor activities.
You can explore the park's trails, go fishing, or even try their hand at horseback riding, golfing, or archery classes.
Why Visit?
Swimming beach
Archery range
Camping
Cabin rentals
Picnicking next to the lake
Playgrounds
There's lots for the kids to do and everything is very reasonably priced.
#7 Burke Lake
What we love about Burke Lake is how it feels like you've escaped it all, yet you're still so close to home.
We enjoy the huge lake and walking the trail around it.
The campground is nice enough to stay for a night or two without having to make plans for a big trip away.
Plus, there are some kid activities they enjoy like canoe rides, the carousel and riding the train.
Definitely makes for a nice, shorter lake getaway.
#8 James River State Park Lakes
James River State Park, located in Gladstone, Virginia, with 3-miles of water frontage.
This is actually one of Virginia's newer state parks so not as many people know about it. It's a hidden gem for sure!
There is so much natural beauty here!
Why Visit?
3-miles of river front
1500 acres of meadows
Cabins and lodging
15-miles of trails for hiking and horseback riding
3 fishing ponds
7 picnic areas
Playground
The park was also named an International Dark Sky Park so it's a great place to see the stars at night.
Local tip: if you come with friends in different cars, park one at Dixon Landing and launch your kayaks, canoes or tubes from Canoe landing to ride the river.
Don't forget to stop by the park's visitors center for information and exhibits.
MORE WATER FUN: 15+ Best Beaches in Northern Virginia (& Within 2 Hours)
#9 Fairy Stone State Park
As this name suggests, Fairy Stone State Park is the place where you can find fairy stones. Yes, they actually do exist.
These rare geological formations can only be found in a few places worldwide, and Patrick County is home to an abundance of these extraordinary stones, which may take the form of St. Andrew's or Roman crosses.
Legend has it that these stones are symbols of good luck, and historical figures such as presidents Theodore Roosevelt and Woodrow Wilson carried them for this very reason.
The 186-acre lake here is beautiful for swimming or taking a kayak or paddleboard ou on the water.
Why Visit?
Beach area with public swimming (lifeguards must be on duty)
Hiking trails
2 playgrounds
Cabins (you need to bring linens)
Fishing
Boat house (canoes, paddleboards, kayaks, etc.)
While the park is more remote, that may be exactly what the doctor ordered!
#10 Sherando Lake
Lyndhurst, VA
Just 45-minutes southwest of Shenandoah National Park is Sherando Lake.
The clear, beautiful water will make you want to swim which you absolutely can.
Why Visit?
Beach area with swimming
Kayaking
Loop trail around the lake
BBQ
Fishing
Campground
One of the highlights of Sherando Lake Recreation Area is definitely its peaceful and beautiful setting. 
You can also hike the White Rocks Gap and White Rocks Falls trails, which provide stunning views of the area's natural beauty.
#11 Lake Chesdin
Lake Chesdin is a thriving 3,100-acre water supply reservoir in south-central Virginia.
The lake is popular for all kinds of fun water activities for adults and kids. There are so many reasons to visit and stay here.
Why Visit?
Sandy beach with swimming
Playground
Volleyball and basketball courts
Boats, kayaks and canoes
Great for water and jet skiing
Fishing pier
Camping
You'll find the public boat ramp and accessible fishing pier are open 24-hours a day.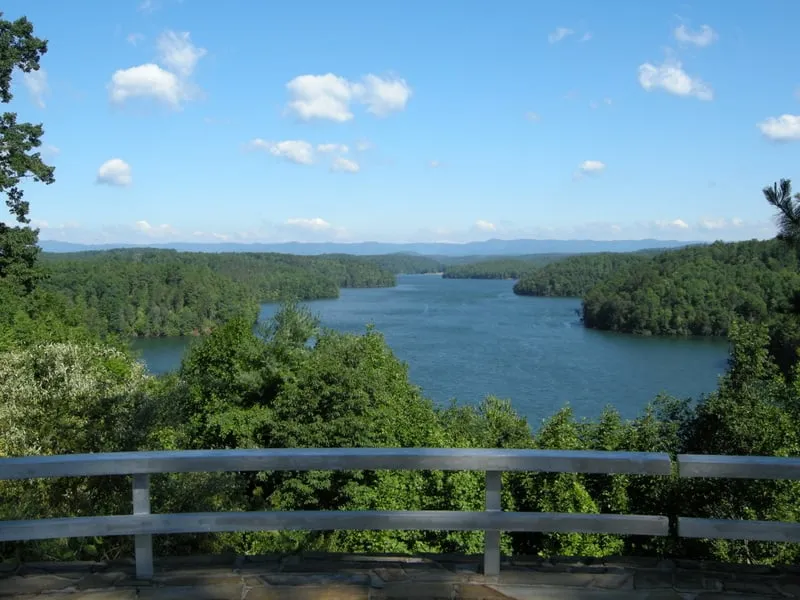 #12 Philpott Lake
Near Martinsville, VA
Philpott Lake, a reservoir in Virginia, has 100 miles of shoreline so you won't be short on space to spreadout here.
This lake is simply stunning, with warm waters and a plethora of parks, beaches, and walking trails surrounding it. The clear waters surrounded by beautiful green trees is just the getaway you need.
The area is impeccably clean and not overcrowded so you can definitely have a good time.
The Goose Point Park campground is well off the road so it's nice and quiet here. The roads are a bit narrow so bring some patience if you have much bigger vehicles or trailers.
Also make sure to book online ahead of time.
Why Visit?
Picnic areas
Beaches with swim areas
Hiking trails
Fishing (large and smallmouth bass)
Observation platforms
Boat ramps
Camping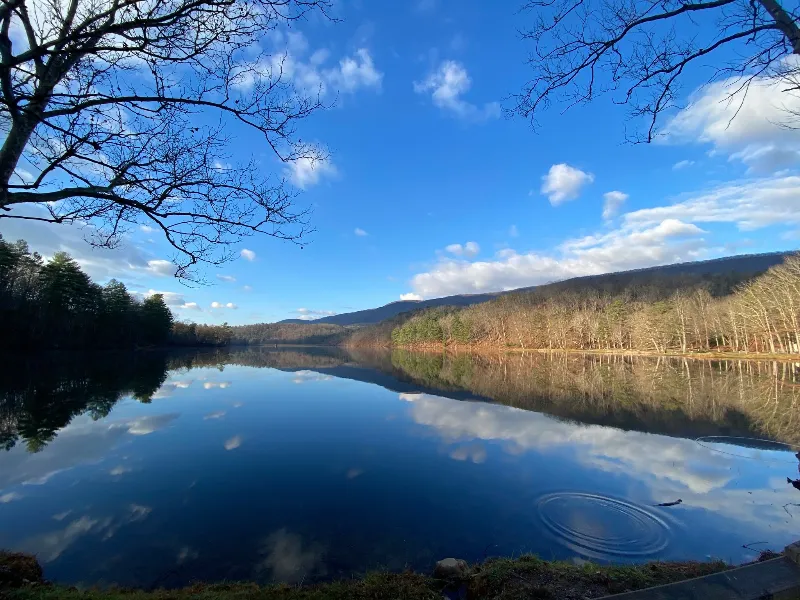 #13 Douthat State Park
Millboro, VA
The lake at Douthat State Park is a beautiful place to enjoy a beach area surrounding by greenery. The lake isn't the biggest compared to the others on this list (although it's still 50-acres), but it is big enough for a nice tube float and is clean.
This lake definitely doesn't disappoint. The rangers are so nice, the camping is awesome, the scenes are what you'd hope for and you'll come back nice and refreshed.
Fun Fact: Douthat State Park is listed on the National Register of Historic Places and other parks in the nation used it's design.
Why Visit?
Rent kayaks, canoes and paddleboards
Fishing (trout)
Lots of trails
Several playgrounds
Store with snacks and ice cream
Quiet cabins and campground
Gift shop
#14 Holliday Lake State Park
Appomattox, VA
Inside Appomattox-Buckingham State Forest is Holliday Lake.
This lake is popular for swimming and fishing.
There are plenty of bass, crappie, and bluegill to fish for.
When it comes to swimming, visit "Critter Hole."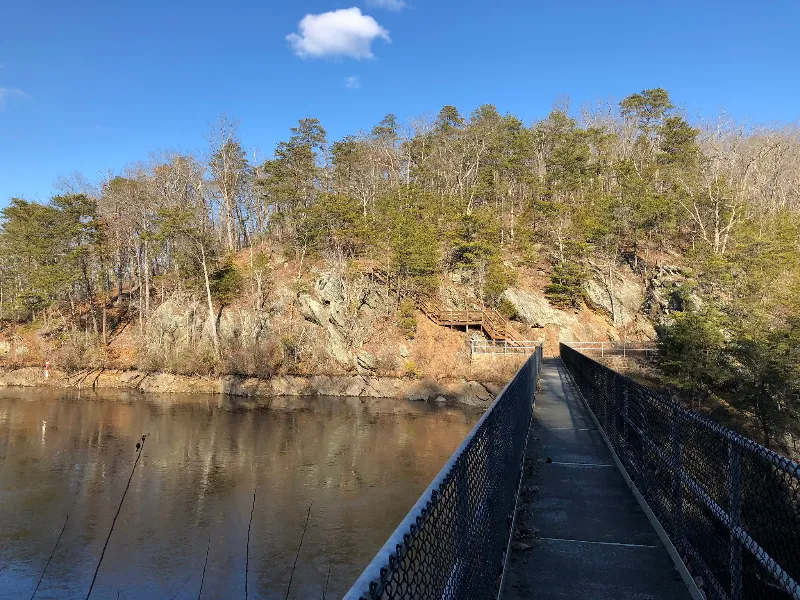 The lake is tucked away in the woods so it's like finding a beautiful, undiscovered place.
The park features:
Several hiking trails (including a 6.7-mile loop around the entire lake)
Boat ramps (you can rent kayaks and paddleboards too)
Picnic shelters
Playgrounds
Snack bar
Gift shop
UP NEXT: 3 Hot Air Balloon Festivals in Virginia: Music, Kid Activities, & Food
Note: the swimming area at the beach is unguarded, and there is limited cell service in the park. 
#15 Carvins Cove Reservoir
Roanake, VA
Carvins Cove Natural Reserve is a beautiful spot in North Roanoke which has you feeling like you are well out of the city.
If you were hoping to swim, this isn't the place to go though.
Fishing, as well as boating (paddleboards and kayaks) are allowed and rentals are available.
Fun Things to Do at The Lake:
Relax and take in the views
Rent a kayak or paddle boat
Take a guided tour with Roanoke Mountain Adventures
Take a paddling class with PLAY Roanoke
Go birding
This is also a popular spot for birding and there are several trails to enjoy seeing waterfowl, shorebirds, herons and others.
#16 Cave Mountain Lake
The Cave Mountain Lake Recreation Area is located near historic Lexington and Natural Bridge State Park, yet it's not as well known.
This is a great spot to stay if you want to visit Natural Bridge and some other attractions in the area. We like visiting this spot as it's a short drive especially compared to some other lakes in Virginia.
It's also only about 90-minutes from Luray, the Yogi Bear Jellystone Park Camp, and Shenandoah Caverns.
The small spring-fed lake is cool and refreshing and is home to a few cute otters so keep an eye out for them.
This is a really nice spot to go camping, especially for families.
#17 Hungry Mother Lake
Marion, VA
Hungry Mother Lake is such a peaceful and quiet lake to visit.
You can spend your time in peace and quiet just relaxing and taking in nature, or head out on the water. Either way, you'll have a great time here.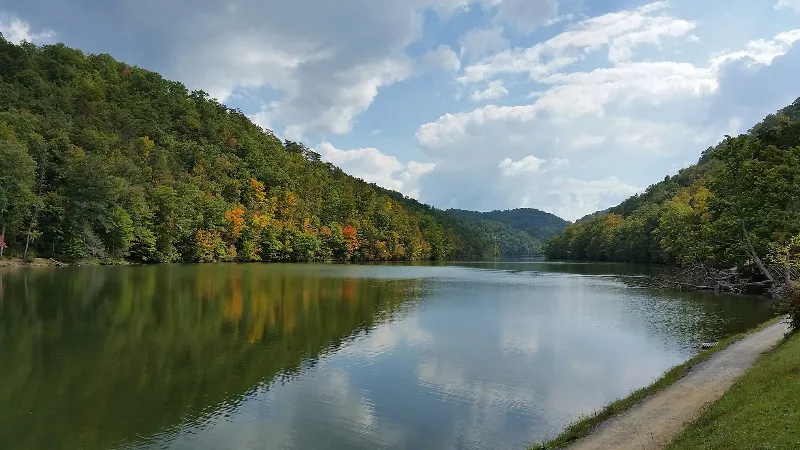 The park provides numerous recreational opportunities including:
Fishing
Boating
Hiking
Swimming
Boat rentals including canoes, kayaks, paddleboats, and paddleboards
There are also campsites and cabins here to stay at.
Did You Know? Hungry Mother State Park is one of 14 state parks that have Yurt rentals?
You are also welcome to swim at the lake. They do have lifeguards on duty and when no guard is available, you are permitted to swim within the roped off section of the lake.
#18 Lake Arrowhead
Visiting Lake Arrowhead is one of our favorite things to do in Luray, VA.
It has a beautiful sandy beach where the kids love to go swimming and during the summer months they have a food concession booth so you can easily grab something to eat and spend the day.
If you have young kids, you'll appreciate the shallow and clean water here. This nearly perfect place just doesn't disappoint!
Why Visit?
Fishing
Swimming at sandy beach
Canoeing and kayaking
Hiking
CLOSE BY: 35 Best Things to Do in Luray Virginia: Not Just Caverns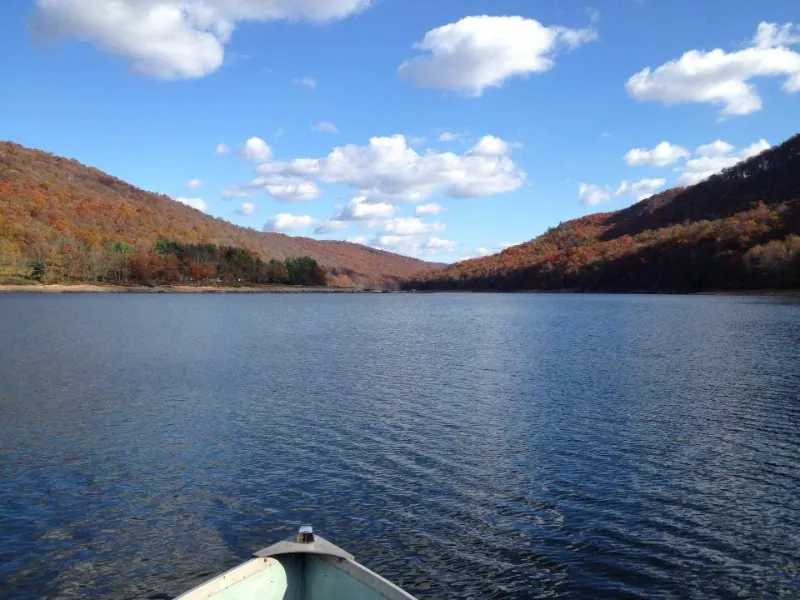 #19 Lake Moomaw Recreation
I'll admit the road to get to Lake Moomaw isn't the most fun. It's gravel, narrow and rather windy.
But that doesn't stop us from going (at least during the day light).
The lake is a bit rocky so definitely bring water shoes if you plan on going in. But even so, this lake is just so beautiful and the surroundings are stunning. This is nature at it's finest!
If you have kids, the water has places where it drops off suddenly so make sure they were life jackets and you're out there with them.
You can enjoy all the same recreational activities here including hiking, swimming, fishing, and boating.
#20 Mountain Lake Lodge
Pembroke, VA
Best known for being the place where the movie Dirty Dancing was filmed back in 1986, Mountain Lake Lodge is a fun and more unique place to visit.
It isn't, however, the best place to go for a lake, especially if you want to participate in water activities, swim or fish.
The lake here just isn't what it used to be.
They do have nice cottages, cabins or rooms to stay in which we enjoyed.
Why Visit?
22-miles of trails to walk/hike
Treetop adventure course
Escape rooms
3D Archery (and archery tag!)
Beach volleyball
Outdoor pool
Arts and crafts
Naturalists programs
Bonfire pit
They also have fun activities like movie nights, guided gator tours and special events thoughout the year.
Your Next Lake Getaway in Virginia
These lake getaways are perfect for lake lovers. Being outdoors and visiting these natural lakes are some of the best ways to spend a summer.
So if you're looking for a perfect way to spend a week, a visit to the lake house may just be what you need.