If you've been wanting to go on a hot air balloon ride or just enjoy the fun of these Pennslyvania hot air balloon festivals, you're in the right place to find all the options you have.
Each of these hot air balloon festivals is a family-friendly event with live entertainment, kids' activities, food vendors with good food and spectacular events.
There are some talented balloon pilots who have even worked at the Albuquerque International Balloon Fiesta
#1 Lancaster Hot Air Balloon Festival & Country Fair
September 14 – 17, 2023 | Bird-in-Hand, PA | Website
The Lancaster Balloon Festival is PA's longest-running hot air balloon festival and there is so much to enjoy at this large festival. This event has been a part of Lancaster for so many years.
If you don't plan on riding, general admission includes:
Bounce houses
Corn maze
Tractor hayride
Oversized lawn games
Walk around the beautiful balloons
Live entertainment (including shows and music)
Fireworks (on Saturday evenings)
Tethered balloon rides (extra cost) allows you to fly up a short distance in an anchored balloon
Rock wall climbing (extra cost)
Hot Air Balloon Watching
Of course, at the festival you can expect to see a lot of hot air balloon launches happening. You'll be able to see them inflate, the balloon pilot step in and take off.
Many of the balloons will take off at the same time which is so cool to see.
Hot Air Balloon Glow
One of the highlights is the balloon glow event, where the balloons are inflated and lit up at night, creating a beautiful and unique spectacle. The balloon glows happen on Friday & Saturday.
Family Entertainment
There are many great events throughout the festival including magic shows, reptile shows, live music and more.
NEARBY: 3 Hot Air Balloon Festivals in Virginia: Music, Kid Activities & Food
Seeing the magic of dozens of technicolored hot air balloons soar over the Lancaster County horizon is truly an experience.
Note: if you book early, you can take advantage of discounts on general admission ticket and hot air balloon rides.
#2 Philly Balloon & Music Festival
July 2-3, 2023 | Glenmoore, PA | Website
The Philly Balloon & Music Festival is a great event that offers something for everyone in the family. You'll have the opportunity to see dozens of balloons floating above along Chester County and you may even get a glimpse of the Philadelphia Skyline in the background.
The festival has live music performances with a number of local artists and bands, covering a range of genres including as rock, country, and pop.
The festival features:
Beautiful hot air balloons
Balloon glow each evening
Fireworks
Bounce houses
Hayrides
Other family-friendly entertainment
Tethered balloon rides
Food trucks with local food, beer and wine
This is a great way to celebrate the July 4th weekend!
#3 Thurston Classic
June 15 – 18 | Meadville, PA | Website
This hot air balloon festival completely free to attend which is nice (although donations are appreciated)! It's important to know that there are no hot air balloon rides offered though. Despite that, there are other special events throughout the festival.
Some of the events you can watch include:
Night Glow: where tethered balloons are illuminated and take flight into the night sky
Races where balloon pilots have to toss a bean bag from their balloon to a target on the ground
Other balloon races
There are typically around 30 balloons involved and the pilots come from Pennsylvania and other surrounding states like Ohio, West Virginia and Michigan.
Note: parking is free. Get there early and bring a lawn chair or blanket.
#4 Chester County Balloon Festival
Jun 16-18 | Toughkenamon, PA | Website
Held at Willowdale, the Chester County Balloon Festival is so much fun for the entire family.
People come from nearby Philadelphia, New York, Washington, DC and New Jersey for this event, whether for the day or even for the whole weekend.
MORE FUN: 9 Virginia Amusement Parks: Family Fun Amusement Parks in VA
Over this 3-day event, there are a number of fun activities including:
Watching hot air balloon flights taking off (twice per day)
Balloon glow featuring a special shapes balloon rodeo
Hot air balloon rides (tethered and untethered
A walk-thru balloon
Beer garden
Live music by local bands
Food
Crafts
Kid zone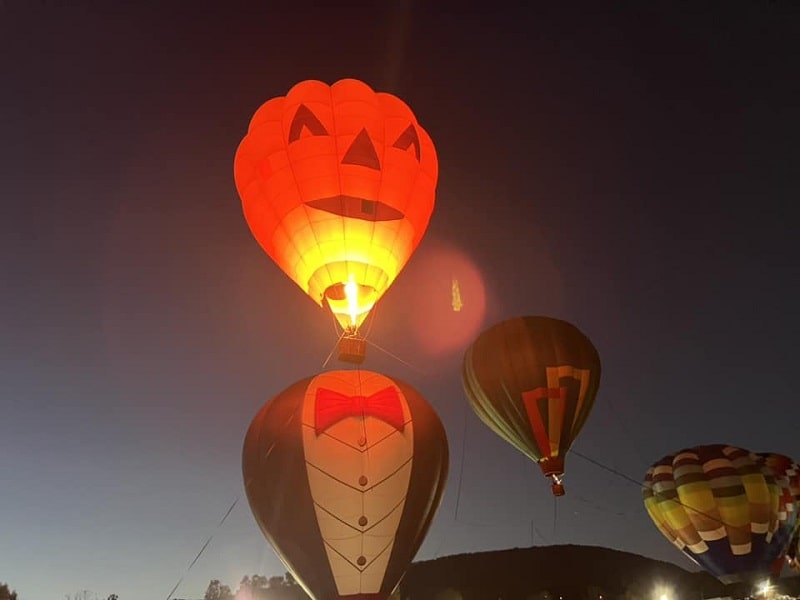 #5 Spooktacular Hot Air Balloon Festival
September 29 – October 1, 2023 | Lehigh Valley, PA | Website
The Spooktacular Hot Air Balloon Festival is run by a local family who wanted to bring something fun to their community. This is a fun event to kickoff the Halloween season.
NEARBY: DelGrosso's Amusement Park (What to Expect)
Located at the Slatington Airport, the event has a lot of fun activities including:
Hot air balloon rides (of course!) both tethered and untethered (extra $)
Hot air balloon glow nights
Laser light balloon glow
Food trucks and vendor craft fair
Live music & entertainment
Bounce houses, carnival rides and games (all included in admission)
Helicopter rides (extra $)
Note: the festival does host a free night for special needs families. Check their website for more details.
#6 Western Pennsylvania Balloon Quest
August 2023 | Scotlands Meadow Park, PA | Website
The Western Pennsylvania Balloon Quest is run by the local volunteer fire department and has been an annual event for over 15 years. The main attraction of course are the hot air balloons themselves!
This is a great experience for the whole family and a perfect way to spend a summer day. The festival's activities include:
20-25 colorful hot air balloons
Amusement rides
Food
Crafts
Demonstrations
Fireworks
Night glow
The weather hasn't cooperating with them for a few years, resulting in having to cancel a number of flights and even deflating the grounded balloons.
The community appreciates them putting the safety of the pilots and crew as their top priority to avoid any unnecessary tragic events.
Tips for Attending the PA Hot Air Balloon Festivals
Arrive Early: if you are trying to arrive for a particular show or to see the ascension, you want to give yourself more time than you think you need. There tends to be an influx of visitors as you get closer to ascension times. Other people want to come for the same events so traffic tends to be heavier.
Plan Ahead: if you know you will be attending a festival, try to purchase your tickets ahead of time as you may be able to grab a discount. You can also check sites like Groupon to see if any discount tickets are available.
Check for Pet Policies: for the most part, you'll need to leave your furry family members at home. Make sure to check each festivals pet policy if you are considering bringing your dog. Service dogs, however, are of course welcome.
Check the Weather: Hot air balloons cannot be flown with rain or especially thunderstorms so make sure to check the weather before you go. If there are high winds, they will likely not be able to fly either.