There are lots of fun things to do in Herndon, VA and here we're going to cover them all.
So no matter if you're looking for something fun to do with friends on the weekend, or you're just wanting to do something enjoyable with the kids, you're in the right place.
From history to excitement to classes and more, we have it all covered here.
Let's explore all the Herndon has to offer here…
#1 Stop for Tea & Treats
714 Pine St, Herndon, VA 20170
Located in Historic downtown Herndon, Elden Street Tea is a wonderful, quaint tea shop where you can stop for a freshly brewed tea, quiche and a scone.
This makes you feel like you're visiting Grandma's house for a special treat.
They also have some fun (and free!) classes for both kids and adults like:
Butterfly Tea party
Board games
Learning to crochet or knit
Yoga classes
And other rotating classes
Somedays they even have live music as well.
#2 Burn Energy at Launch Trampoline Park
13348 Franklin Farm Rd, Herndon, VA 20171
If you need to let the kids burn off some energy, Launch Trampoline Park is the place to go.
In addition to the trampolines, they have other attractions like:
Dodgeball
Basketball
Ninja course
Launch pad
Arcade
They also have a restaurant, virtual reality and mini go-karts there.
#3 Visit a Historic Train Depot
The Herndon Depot is an original historic train depot with historic train memorabilia.
Here you can see hundreds of artifacts and photos from Herndon's history.
You can't just visit anytime though. The museum is only open on Sundays from 12pm to 3pm, from March to mid-December.
They also host an annual model train show.
#4 Complete an Escape Room
Escape Room Herndon has some seriously fun escape rooms to attempt with family or friends.
They use:
Artifacts
Clues
Cryptic symbols
And other interactive materials
Your job is to piece it all together to solve the room before the time is up.
I definitely recommend the Magician's Room and the 8-Bit Escape Room!
#5 Frying Pan Park
Frying Pan Park may very well be my favorite place to go in Herndon. This was a place I visited as a kid and it's now a place I take my own kids.
We always visit in the spring as we watch their calendar for new animal births.
You're able to visit every few weeks and see different baby animals which is such a treat.
You can also see antique farm equipment, ride the carousel and see many animals.
Keep an eye out for their annual events as well.
#6 Take a Historic Walking Tour
Throughout Herndon you can find historic markers that will guide you through the history of Herndon.
In fact, there are 2 tours you can take – the East tour and the West tour.
Each tour will walk you through historic homes and buildings in the area.
You can find a map of the tours, as well as the stops here.
#7 Take the Kids to The Arcade
Yes, your local Chuck E. Cheese is in Herndon too!
There are lots of games to keep the kids entertained for hours.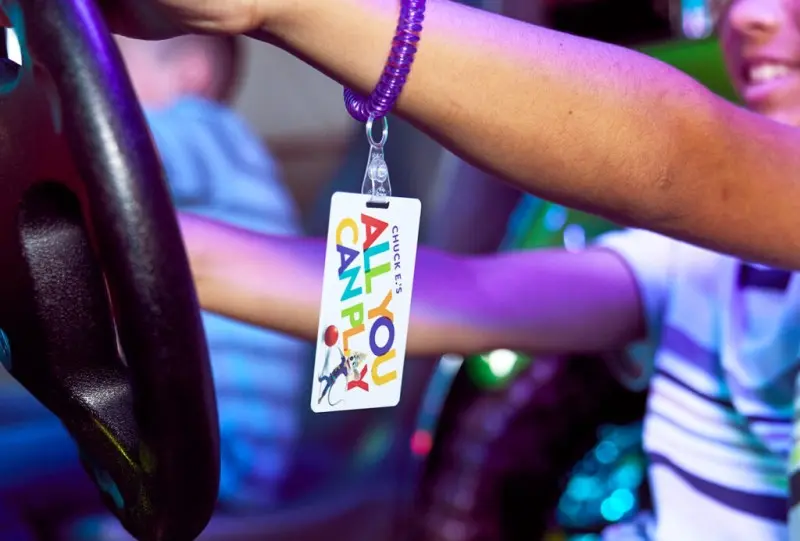 Plus, they have food if you want to eat too.
Prices can add up but here are several ways you can save at Chuck E. Cheese.
#8 See a Theatre Show
269 Sunset Park Dr, Herndon, VA 20170
NextStop Theatre Company is an awesome local theatre company and let me tell you…the shows are incredible!
The acting and singers here are so professional and produce high quality shows.
They also have kid's shows.
Make sure to get their early so you can get the best seat and have plenty of time to find parking.
#9 Go For a Hike
12200 Parkstream Terrace, Herndon, VA 20170
Sugarland Run Stream Valley Park is a popular park in Herndon with a trail that crosses a creek.
The trail is about 3 miles long and it is completely paved so you can push a stroller or ride a bike without issue.
Kids love the water streams and it keeps them walking to see what else they can find. Even when it's sunny out, there are plenty of trees to keep you in the shade.
This is also a beautiful place to spot wildflowers in the spring.
#10 Create Your Own Art
761 A Monroe St, Herndon, VA 20170
Monroe Street Studio is an art studio for artists of any level. This is where you can learn to:
Painting
Drawing
Pottery
Sewing
Mosaic
Staind Glass art
They have workshops and classes for both adults and children.
If you want to go with your kids, look for their Family Bonding Time sessions which are a lot of fun and is a great memory for you to make with your kids.
#11 See Free Concerts
Horse Pen Road, Oak Hill, VA 20171
Arrowbrook Centre Park is a nice modern park with lots of amenities.
It also has a beautiful pond to walk around and see the geese and turtles.
They also have free concerts at Arrowbrook Park every Saturday in July and August from 7:30pm to 9pm.
Bring a picnic!
#12 See an Outdoor Concert
777 Lynn St, Herndon, VA 20170
Friday Night Live! is the place to go for outdoor concerts. They have bands come in to play and also sell food and beers.
It's always a fun time and a great way to spend a Friday night in Herndon.
#13 Visit a Small Park
Haley M. Smith Park is a fun park for the little ones where they can play at the playground and run around in the open space.
During the summer, it's a popular spot in the late evening as it starts to cool down.
They also have a beach volleyball court and I often see kids playing in the sand when the court is not being used.
They also have soccer, baseball and basketball courts/fields.
#14 Herndon Farmers' Market
Herndon has a nice farmer's market that opens on Thursdays from mid to late-April through November each year.
The outdoor market is open from 8am to 12:30pm.
They have 2 to 3 dozen vendors at a time so you find all kinds of goodies including your typical fruits and veggies, plus:
Bakery items
Empanadas
Chinese entrees
Juices
Nuts
There's homemade items and crafts as well. While you'll find plenty here, it's not quite as big as the Reston Farmer's Market.
#15 Enjoy Art & Wine
12976 Highland Crossing Dr ste d, Herndon, VA 20171
Pinot's Palette-Dulles is an art and wine studio that has some fun, rotating workshops each week.
They have events like:
Open studio
Paint & sip
Pottery painting
Canvas painting
There are lots of events for adults, including the wine, beer & cider tasting.
They also have classes for kids under 12 including Little Brushes and other Family Fun Public events.
#16 Play at the Skate Park
Trailside Park is a great place to go for a small skate park right in town.
This is a park where it's easier to keep your younger and older kids entertained.
They have:
Playground for bigger kids
Small slides
Small skate park
Merry go round
Picnic area
It's also nicely shaded too so it's a nice place to go even when it's hot!
#17 Take Art Classes
750 Center St, Herndon, VA 20170
Arts Herndon is another local art center that offers lots of mixed media classes like:
Wine glass painting
Painting with watercolors
Upcycle glass
They also offer theatre and even have festivals and community events.
#18 Visit The Library
768 Center St, Herndon, VA 20170
The Herndon Fortnightly Library certainly isn't the biggest library in Fairfax County but it is very nice.
It's quiet and it has nice, green scenery out the windows. There are plenty of chairs for reading or working and lots of outlets if you want to work for a bit.
The building itself is beautiful as it has a large dome that makes it look like an astrological center.
They also have a nice, large children's section. Don't forget to check their event calendar for kid and adults activities hosted weekly.
#19 Herndon Community Center
814 Ferndale Ave, Herndon, VA 20170
The Herndon Community Center has some nice (and newer!) facilities and fields.
They have a beautiful pool and overall great prices.
They also have:
Gym with lots of equipment
Racquetball court
Pool and jacuzzis
Sauna
Rooms for classes
Basketball and tennis courts
They also have open gym for kids and adults.
#20 Enjoy Indoor & Outdoor Athletic Courts
814 Ferndale Ave, Herndon, VA 20170
Bready Park has several great amenities to offer including:
Both indoor and outdoor tennis courts
Turf soccer field
Basketball court
Playground
Covered picnic area
More Fun Things to Do Near Herndon