When it comes to pricing it's important to note there is weekday pricing, weekend pricing and specials (which are deals you can get during the week.
Here we're doing to look at all the prices.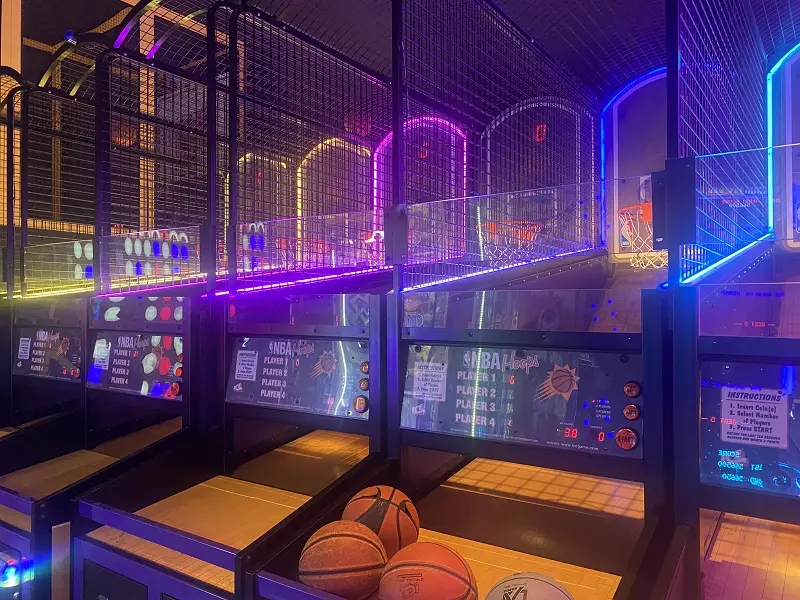 Keep in mind these prices are an average and of you listed in a higher or lower cost area, prices may adjust accordingly. Regardless, this will give you a better idea of how much Main Event costs for their various activities.
Plus, I'll share 7 ways you can save on the cost at Main Event so let's jump into it!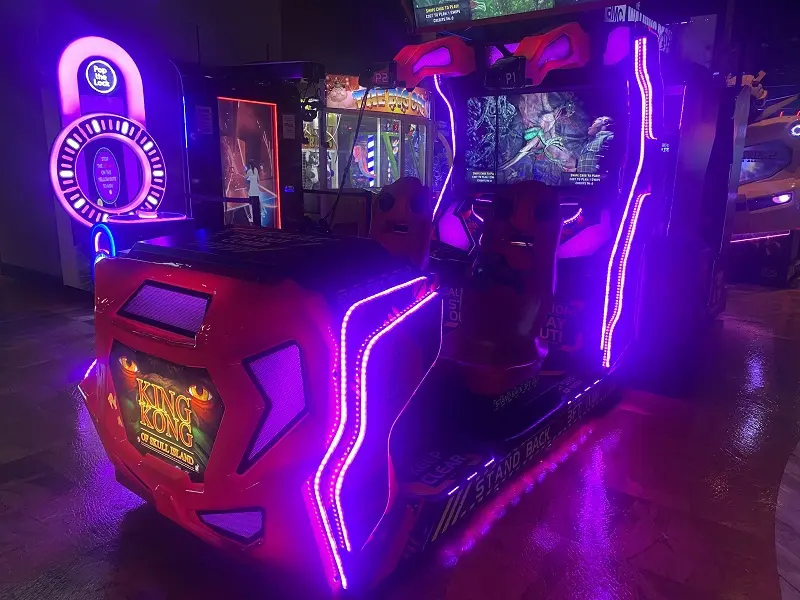 Weekday vs Weekend Prices
Weekends are going to be much more expensive than weekends so if you want to save, definitely try and go during the week if you can.
Weekends are Fridays, Saturdays and Sundays, where as weekdays are considered Mondays through Thursdays.
Regardless of when you go, think about which activities you'll want to participate in so you can figure out whether it is better to pay by attraction or opt for a bundle deal before you go.
Cost By Attraction
Here we'll breakdown the cost of all Main Event's attractions including:
• Arcade
• Bowling
• Laser Tag
• Gravity Ropes
• Billiards
• Story Room
• Food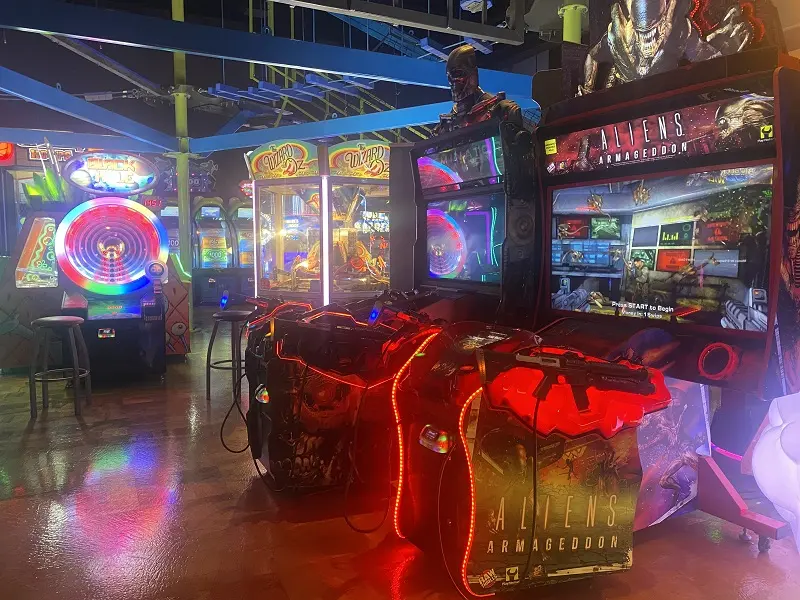 Main Event Arcade Cost
Besides bowling, the arcade is one of Main Event's top attractions. Main Event actually has some really good deals (see the savings section at the bottom of this post).
To play, you first purchase a fun card and then can purchase game credits. The prices for credits are the same during the week as on the weekend.
| | | |
| --- | --- | --- |
| | Monday – Thursday | Friday – Sunday |
| 200 Game Credits | $35 | $35 |
| 300 Game Credits | $50 | $50 |
| 675 Game Credits | $100 | $100 |
How to save at the arcade
The 2 times during the week when you can get the best deals on the arcade are on Mondays and Wednesdays.
On Mondays there is unlimited play after 4pm for only $12.99 per person. You can play as many games as you want for as many hours as you want until they close.
Keep in mind that you will not earn points during unlimited play.
The more credits you pay for upfront, the more you save. If you plan on coming regularly, it may make sense to pay for more credits now and save some credits for future visits.
On Wednesdays the Main Event arcade is 50% off. So for example, if a game typically costs 8 points, it will only cost 4 points on Wednesdays.
This is a great way to pay half us much or to play twice as many games for the same amount as you otherwise would get to.
Note: Main Event does use a Fun Card system where you are required to add funds to the card which you can then use to pay for each game. Dollars are converted to points.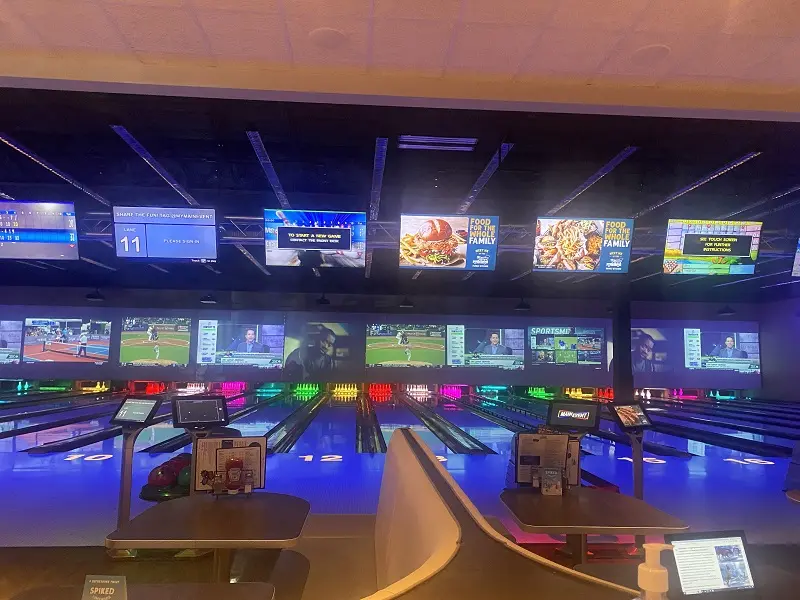 Main Event Bowling Cost
If you're wondering how much does bowling cost at Main Event, here are the prices for bowling during the week and on the weekends:
Monday – Thursday
Friday – Sunday
Up to 6 people
(Open to close)
$32*
$40*
Bowling shoe rental
$4.95
$4.95
* Bowling shoes are required. Complimentary socks are avialable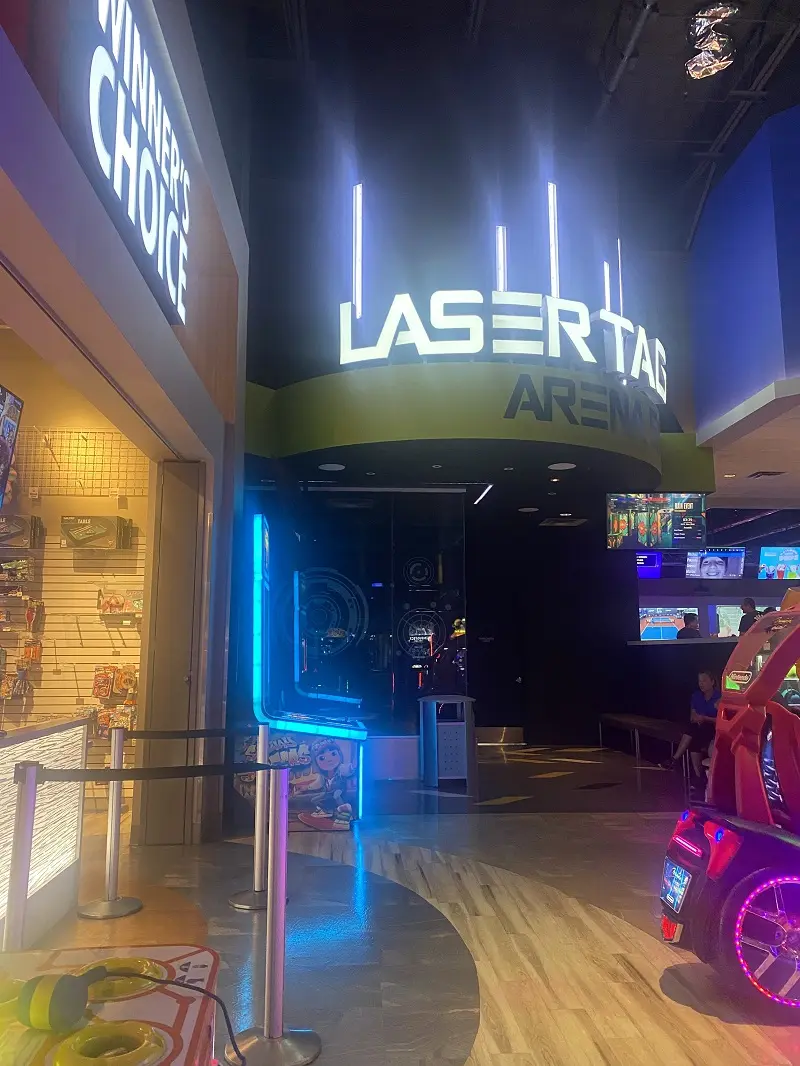 Main Event Laser Tag Cost
The cost for laser tag at Main Event is per person, per session unless part of a weekday package.
The cost per session is $8.50 during the week and is $10.50 on weekends. Sessions are about 15 minutes long which includes getting your equipment on and hearing some quick instructions.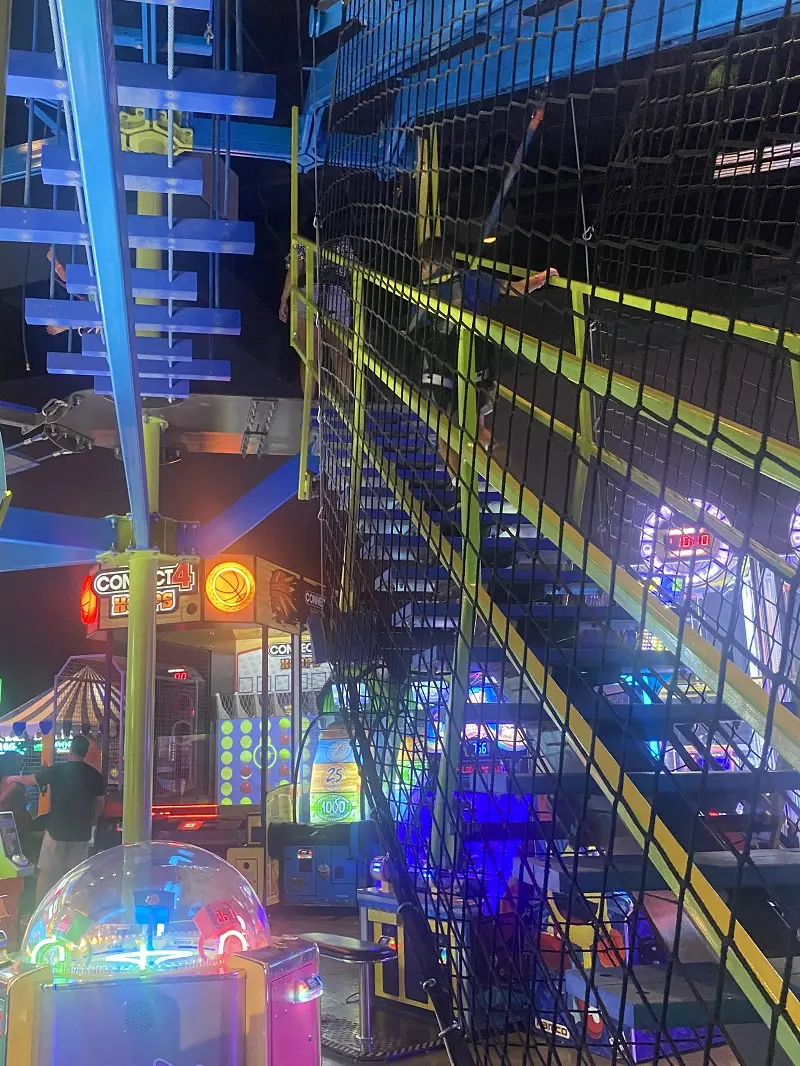 Main Event Gravity Ropes Cost
The Gravity Ropes attraction allows you to take the course one time and cost is per person and per session.
Monday – Thursday
Friday – Sunday
Per person, per session
(Open to close)
$8.50
$10.50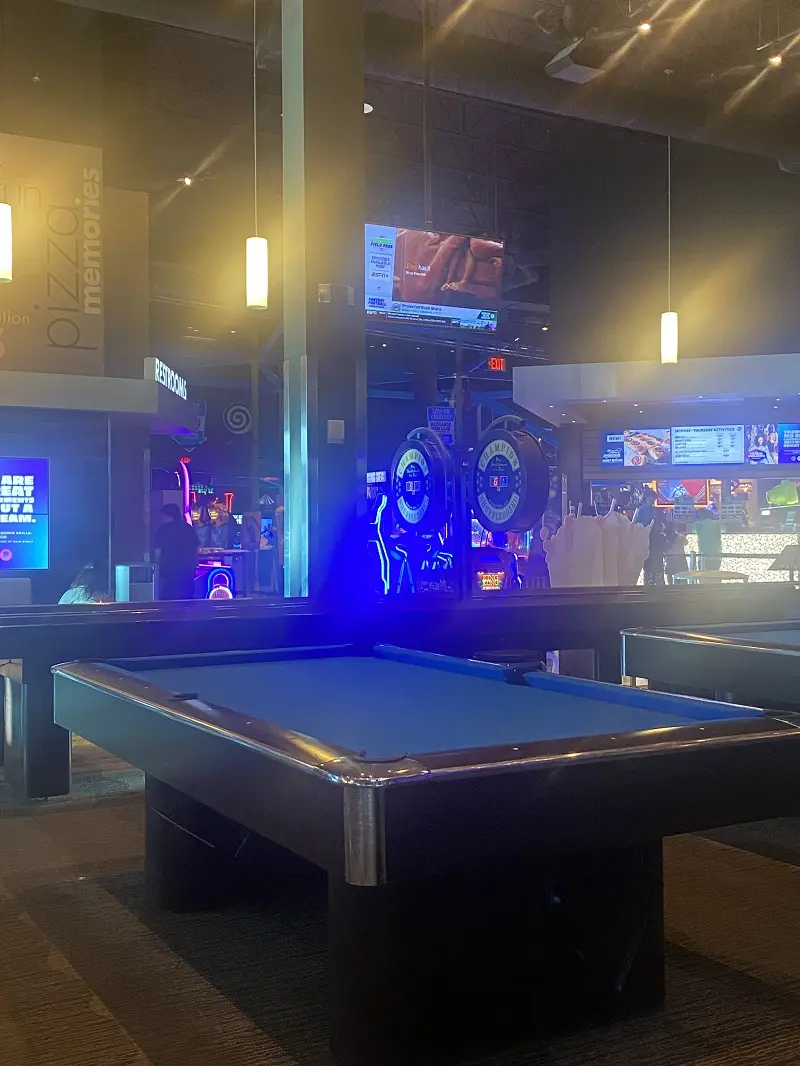 Main Event Billiards Cost
Billards is the same cost for up to 4 people. The cost is for 30 minutes of play time.
There are also a couple of shuffleboard tables in the same area and are included in the cost.
Monday – Thursday: $8 (open to close)
Friday – Sunday: $10.50 per person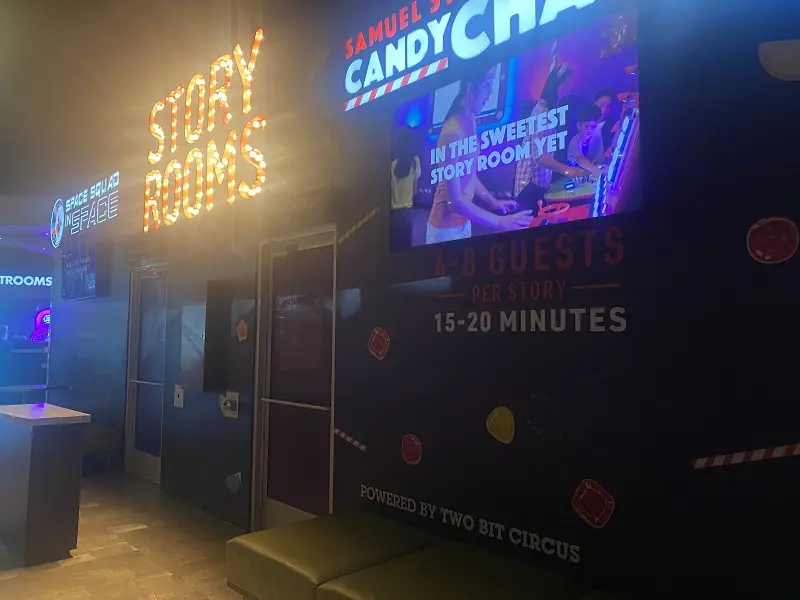 Main Event Story Room Cost
If you've never tried the Story Rooms at Main Event, they are like 50% escape room, 50% video game.
You can play with 4-9 guests per story and each story is about15-20 minutes to play time.
Story Rooms are $10 per person, per session Mondays through Thursdays and $10.50 on the weekends.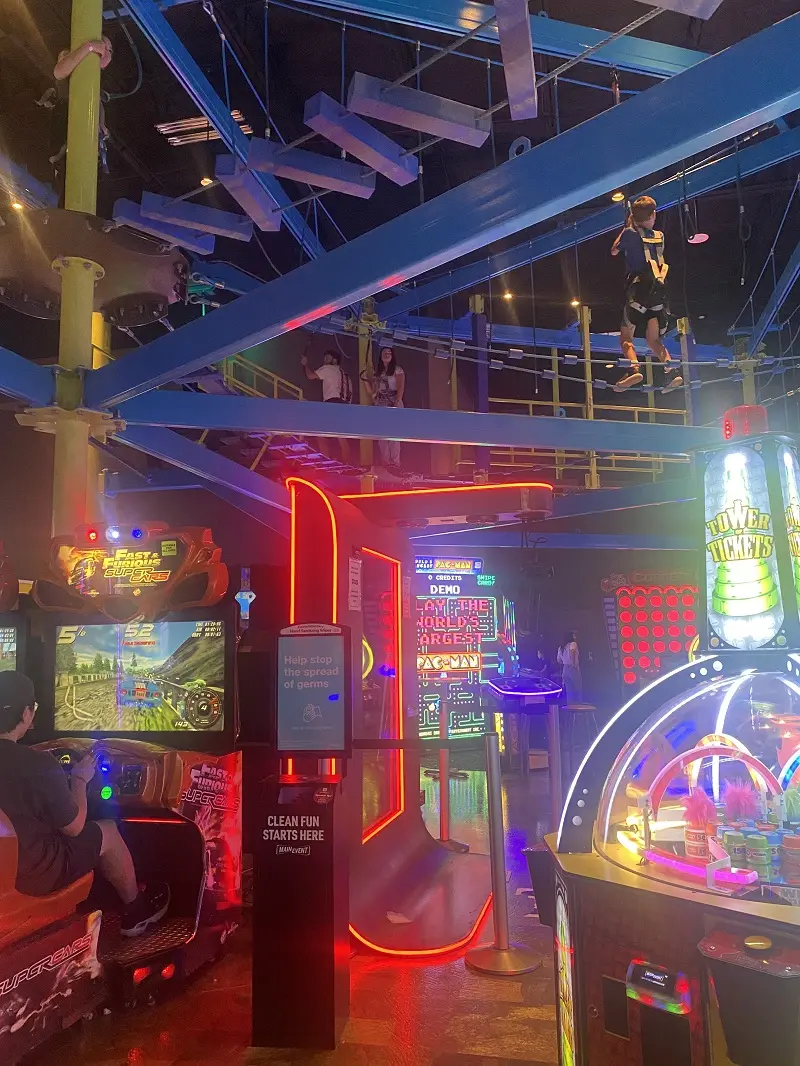 Main Event Food Cost
Let's break down some of the most popular food items and their cost.
| | |
| --- | --- |
| Classic double cheeseburger | $12.99 |
| Loaded queso & chips | $10.99 |
| Personal pepperoni pizza | $13.99 |
| Boneless wings | $12.99 |
| Twisted pretzels | $9.99 |
| Large seasoned fries | $5.99 |
| Large soda | $4.49 |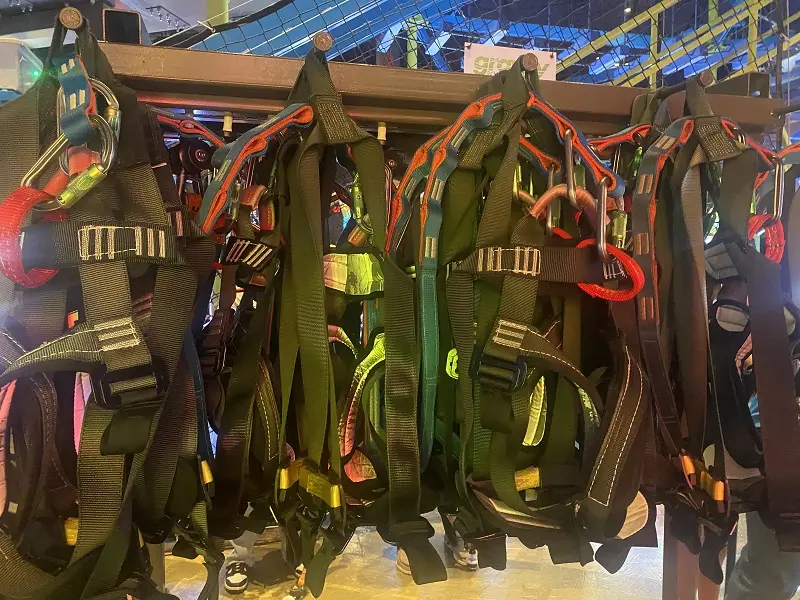 Main Event Deals, Specials & Discounts (5+ Ways to Save)
So you're looking at how to save at Main Event. Let's look at some ways to score some deals.
#1 Download the Main Event App
They'll send you some deals that you can use while you're there sometimes, as well as ahead of time so you can plan to go when you get a deal.
#2 All You Can Play Activity Pass
There are 2 all you can play activity passes available from Mondays through Thursdays. This pass gives you unlimited play from open to close and includes either (1) Arcade or (2) Bowling, Gravity Ropes, Laser Tag and Billards.
The all day pass is $22.99 and lasts the entire day open to close.
Renting bowling shoes is a separate cost ($4.95).
Story rooms are also not included at are $10 per person, per session Mondays through Thursdays.
There is also an All You Can Play pass on the weekends which is $25.99. It also does not include the arcade or story room.
#3 Monday Night Madness
Monday Night Madness begins at 4pm on Mondays and only costs $12.99 for unlimited play.
You have 2 choices of packages as outlined above under 'All You Can Play Activity Pass.'
Note: arcade games do not earn you points that you can redeem in the shop during unlimited play.
#4 Kids Eat Free
If you plan on eating while you are there and will be bringing kids, Tuesdays is a great day to go as kids under 12 eat free on Tuesdays when adult buys a meal of $11.99 or higher.
#5 Food & Fun Combo
The Food & Fun combo ranges from $19.99 which includes an entree and 10.00 in Game Play, up to $52.99 which includes an entree and $50 Game Play.
Obviously, the more Game Play you want, the more you'll pay.
#6 Kids Bowl Free
Some Main Event locations participate in the Kids Bowl Free program where kids can bowl every single day for free during the summer months. Plus, adults can pay a one-time fee to pay with the kids for the whole summer.
#7 Main Event Survey
When you for anything at Main Event, look at the bottom of your receipt for a survey. Sometimes you have the chance to take a survey and receive 30-minutes of game play free.