Sunflower fields in Maryland are a must-see for nature lovers, photographers, kids and families alike.
The fields are typically in bloom from mid-July to mid-August. A few are even open well in to September as well.
During this time, the fields are open to the public for viewing, photography and even for getting to pick your own sunflowers!
Visitors can also purchase sunflowers to take home with them.
Kids also really love seeing these tall and huge flowers. Plus, a couple of the these sunflowers fields in Maryland also have a sunflower maze which is so much fun!
Here we'll be sharing some all of the sunflower fields in Maryland, including the most popular and the newer fields as well.
And if you're wondering where to pick your own sunflowers in Maryland, you'll find that here too!
21 Sunflower Fields in Maryland
#1 McKee Beshers Wildlife Management Area
18600 River Rd, Poolesville, MD 20837 | Website
McKee-Beshers is a 2,000-acre property managed by the Maryland Department of Natural Resources.
The main attraction at McKee-Beshers is definitely the large number of sunflowers that are planted and grown each year.
The sunflowers are planted in May and they typically bloom in mid-July. The fields are open to the public and offer a great place to view wildlife, especially birds.
While no sunflowers can be picked here, the huge field full of towering sunflowers is quite a sight to see!
#2 Burnside Farms Summer of Sunflowers
11008 Kettle Run Rd, Nokesville, VA 20181 | Full Details
Burnside Farms is a family-owned and operated farm located in Nokesville, Virginia.
They grow a variety of crops, but are best known for their beautiful sunflowers.
Every year, they open their fields to the public so you can come and pick your own sunflowers.
The farm also has a sunflower maze, which is a popular attraction for both kids and adults.
Burnside Farms is a great place to visit if you're looking for a fun and unique experience.
You can also pick your own tulips here during their festival of spring.
#3 Misty Meadows Creamery
14325 Misty Meadow Rd, Smithsburg, MD 21783 | Full Details
Misty Meadows Creamery is a small family-owned creamery that harvests their own sunflowers.
This is used to make oil and of course, as decorations around the farm.
If you think a day filled with sunflowers sounds amazing, add some homemade, farm fresh ice cream to that!
Along the Maryland Ice Cream Trail, Misty Meadows also offers tours, has a wonderful fresh produce and country store and of course, has an absolutely beautiful backdrop for their large farm of sunflowers.
#4 Butler's Orchard Sunflower Spectacular
22222 Davis Mill Rd, Germantown, MD 20876 | Website
If you're looking for a place to see some beautiful sunflowers, head to Butler's Orchard in Germantown, Maryland.
The sunflowers are in bloom from late July to early August, and the field is open to the public.
There is an admission fee to enter the spectacular, however, this includes their 2 football fields worth of sunflowers to view and their farm park with giant slides, animals, pedal tractors, playground and more.
They also have fruit fields you can pick fruits and flowers from.
In April you can also visit the farm for their Bunnyland event and pick-your-own fruits and veggies at other times during the year as well.
#5 The Millers Farm
10140 Piscataway Rd, Clinton, MD 20735 | Website
The large sunflower field is created with a path through it for everyone to explore. On certain weekends they also have vendors, food trucks, live music and yard games.
There is a $5 fee per person (children under 5 are free) and there is no advance payment.
The sunflowers bloom in September here.
READ NEXT: 3 Farms to Pick Your Own Strawberries in Maryland
Millers Farm is also one of our favorite places to pick strawberries in the spring but they also have some amazing sunflowers in the summer.
#6 Gold Petal Farms
37254 Manor Rd, Chaptico, MD 20621 | Website
Gold Petal Farms has one of the best sunflower mazes in Southern Maryland.
They are also home to some of the most beautiful sunflowers in the state.
They not only have a pick-your-own flowers but they also have other fun activities like free pain stations, corn hole, and more. The season typically runs from mid-June to mid-August.
This is also a great place for a picnic!
#7 Rock Point Creamery
4323 Tuscarora Rd, Tuscarora, MD 21790 | Website
Rock Point Creamery is one of the creameries on the Maryland Ice Cream Trail.
They have 1.5 acres of sunflowers planted each year which are available for sale in July and August. What's different about this Maryland sunflower field is that 100% of the proceeds are donated to St. Jude's Children's Hospital.
As the name suggests, they have more than just sunflower fields. You can't leave without some of their delicious ice cream!
Plus they have a re-purposed farm equipment playground with several slides and they also have goat yoga too.
#8 Maryland Agricultural Resource Council Seasonal Sunflower Maze & Cut-Flower Garden
1114 Shawan Rd, Cockeysville, MD 21030 | Website
The Maryland Agricultural Resource Council is a non-profit organization that is dedicated to promoting the agricultural industry in the state of Maryland.
Sunflowers typically bloom from mid to late August through September and they have sunflower mazes to explore.
On top of that, you can also explore trails, demostration gardens, animals and more.
#9 The Sunflower Garden
2390 Manchester Rd, Westminster, MD 21157 | Website
The Sunflower Garden in Maryland is a hidden gem that is definitely worth a visit.
The garden is beautiful and the staff is friendly and knowledgeable.
I highly recommend this place to anyone looking for a peaceful and relaxing day trip.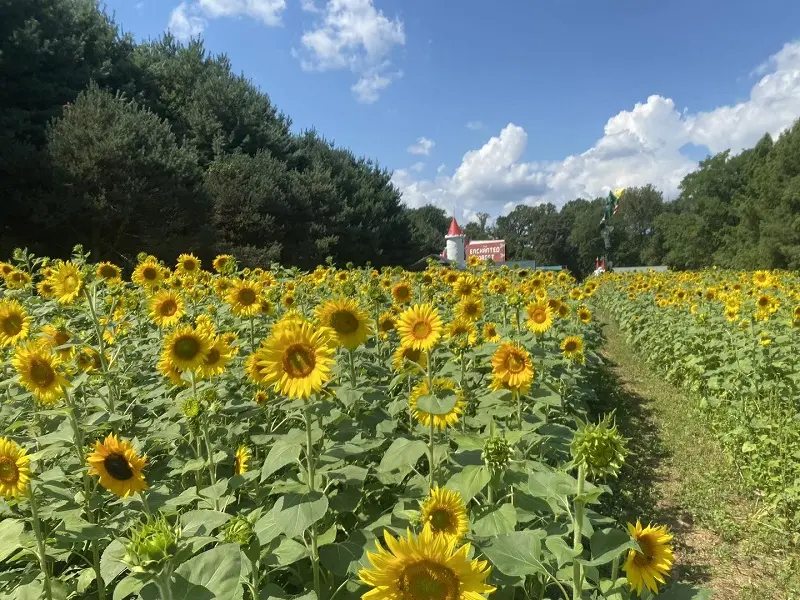 #10 Clark's Elioak Farm Sunflower Showcase
10500 Clarksville Pike, Ellicott City, MD 21042 | Website
The Sunflowers at Clarks Elioak Farm is open from August 18th to September 4th.
This is a unique sunflower experience and you'll be able to take some great photos with the Enchanted Forest Castle in the background. You can take sunflowers home too!
You can stick around for their Enchanted Forest attractions which include animals, train ride, pony ride and more.
The farm is home to a variety of animals, including goats, pigs, chickens, and cows.
Clark's Elioak also has a really fun fall festival.
#11 Broom's Bloom Dairy
1700 S Fountain Green Rd, Bel Air, MD 21015 | Website
Located along the Maryland Ice Cream Trail, Broom's Bloom Dairy offers a beautiful sunflower field.
This is another place to see sunflowers while enjoying some "cow-to-cone" ice cream.
While there is no sign of an event this year, we'll update this as soon as we receive word of their next sunflower event.
Broom's Bloom Dairy sunflowers are in full bloom!
The sunflowers are part of Broom's Bloom Dairy's sustainable farming practices, and they're just one of the many ways that the dairy is working to be more environmentally friendly.
The sunflowers help to attract bees and other pollinators to the farm, and they also help to improve the soil quality.
#12 Emily's Produce Sunflower Spectactular
2214 Church Creek Rd, Cambridge, MD 21613 | Website
Emily's Product Sunflower Spectacular has 40 types of sunflowers over 4 acres in Dorchester County.
This local farm in Maryland grows a variety of sunflowers, including some that are over eight feet tall! The blooms typically occur between mid to late July and early August
Emily's Produce is open to the public for visits and also offers pick-your-own sunflowers.
Note: we do not see an event for this year. We'll update this list when we receive notice of a new event.
#13 Clear Meadow Farms
3134 Troyer Rd, White Hall, MD 21161 | Website
The sunflowers of Clear Meadow Farms are planted in July so you can expect for them to bloom towards the end of September.
This year they planted 600,000 seeds!
They are so big and bright and full of life.
#14 Valley View Acres Sunflower Festival
4005 Valley View Rd, Middletown, MD 21769 | Website
This year the annual Sunflower Festival will take place on weekends from July 15th to August 6th.
Valley View Acres just may be the best place to see sunflowers in Maryland.
The fields are absolutely gorgeous during this time.
The best time to visit Valley View Acres is during the weekdays when the crowds are thinner. However, even on weekends the visits are so enjoyable, the whole family will have a great time!
Note: it seems Kilby Cream may now be closed
#15 Kilby Cream
129 Strohmaier Lane, Rising Sun, MD 21911
Kilby Cream is another farm on the Maryland Ice Cream Trail.
When it comes to sunflowers, Kilby Cream's MD Sunflowers are the cream of the crop!
They have a very nice field that typically blooms in August.
Note: No dates have been mentioned for this year and we'll update as soon as we hear news.
#16 Lockbriar Farms
10051 Worton Rd, Chestertown, MD 21620 | Website
Lockbriar Farms sunflowers are a beautiful site in the summertime.
Lockbriar Farms offers a u-pick garden with blueberries, raspberries, blackberries, flowers, lavender and herbs.
Typically starting in early August, you'll find sunflowers blooming here.
Every year, the farm opens its fields to the public, and people come from all over to take photos and enjoy the view. The farm also offers a variety of other activities, including hayrides, corn mazes, and pumpkin picking in the fall.
#17 Gaver Farm Sunflower Fields
5501 Detrick Rd, Mt Airy, MD 21771 | Website
Gaver Farm in Mount Airy, MD, has been growing sunflowers for over 20 years.
Gaver Farm is another pick-your-own farm with delicious pickings including pumpkins, apples and yes…sunflowers! Sunflowers typically bloom for a few weeks in September.
You will also take a free hayride to the pick your own fields.
This year, the sunflower fields will open on September 1st.
You will be able to explore the sunflower paths, take pictures with props like a hammock swing, piano and more right in the field.
#18 Sunflowers of Lisbon
1404315448, Woodbine, MD 21797 | Website
The Sunflowers of Lisbon Maryland is an annual event that celebrates the blooming of the sunflowers.
This takes place through the end of July and tickets can be purchased online.
Admission gives you access to 13-acres of sunflowers and 4 cut blooms. You can cut more for $3 a piece. They also have live music from local musicians, free hayride to the fields, kid activities, food trucks and more.
#19 Sunflower Festival at Farm Heritage Conservancy
6960 Serenity Farms Rd, Hughesville, MD 20637 | Website
The Sunflower Festival at the Farm Heritage Conservancy is an exciting new event that celebrates our agricultural heritage.
At this event, there are:
6-acres of pick-your-own sunflowers
Hay rides
Photo opps
Art show
Petting pen
Vendors
Aand more
The event takes place on September 2-3, 2023 from 10am to 4pm.
Tickets can be purchased online in advance. Tickets include sunflower picking and the build-your-own bouquet station.
#20 Clarksville Sunflower Market at Mary's Land Farm
4979A Sheppard Ln, Ellicott City, MD 21042 | Website
The Clarksville Annual Sunflower Market takes place on August 1st this year.
The market will be at Mary's Land Farm and there are 6-acres full of over a dozen varieties of sunflowers to choose from.
The sunflowers range from 2 to 12 feet depending on their type. Plus there are different shades of colors from yellow to orange and even deep red.
#21 Summers Farm Annual Sunflower Festival
7503 Hollow Rd, Middletown, MD 21769 | Website
This sunflower field has 8-acres containing thousands of sunflowers. And with over 35 different types of sunflowers, you'll definitely get to see some sunflowers you probably have never seen before.
This annual event is open from August 18th to September 10th on select dates.
Tickets can be purchased online and include a wagon ride to the sunflower field, a free sunflower for you to pick and over 45 games and actvities for you to enjoy.
They have a nice fall festival that is a lot of fun.
Sunflower Fields in Maryland: Frequently Asked Questions
What is the best time to visit?
The best time to visit Maryland's sunflower fields is from late July to early August, however, there are a few farms that have blooms through the end of September.
Late July to early August is when most of the flowers are in full bloom and make for a stunning sight.
Local tip: keep in mind that the fields can get pretty crowded during this time, so it's best to go early in the morning or on weekdays if possible to avoid the crowds.
One sunflowers bloom, they are typically open for 2-3 weeks, so when they bloom, it's time to get up and go!
How to make the most of your visit
Make sure to pack plenty of water for when you go into the fields. It may be a good idea to let kids know ahead of time that there will be bees (and hopefully butterflies!) on and around the flowers.
This is a good opportunity to explain why.
Some places also let you bring a picnic lunch to enjoy in the field while you take in the sights!
You may also want to bring sunscreen, sheers and a vase (with water!) to bring your flowers home in.
Tips for taking great sunflower photos
Whether you're a professional photographer or an amateur shutterbug, taking great photos of sunflowers is easier than you might think. Here's some tips to help you take the best sunflower photos since you may only get one chance this year.
1. Choose the right time of day
The best time to take photos of sunflowers is early in the morning or late in the afternoon, when the sun is low in the sky and the light is softer. Avoid taking photos during the middle of the day, when the sun is high in the sky and the light is harsh.
2. Go as early as possible
If you want to get great shots of the full fields or even of the family, try going on days / times when it will be less crowded so no one will be in your way. The earlier in the day the better.
3. Consider the angle
Remember you can get down low and shoot up at the sunflowers or even bring a step ladder so you can get an awesome high view of the full field of flowers. You can also step back to photograph several flowers or step in real close to capture a small bee within the large bloom.
Picking the perfect sunflower
The best time to pick sunflowers is in the morning, after the dew has evaporated. This will help to prevent the flowers from wilting. It is also important to cut the stem at an angle, so that more water can be absorbed.
When you cut the flower, cut about 6″ from the base of the flower.
Picking Sunflowers in Maryland
Sunflower fields in Maryland are a fun and beautiful place to visit. The fields are a great place to take pictures, relax, and have a picnic. If you are looking for something to do this summer, I would highly recommend visiting a sunflower field in Maryland.
The flowers are in bloom from late July to early and even the end of September, so be sure to visit soon!