Elevate is a newer trampoline park bordering Mesa and Queen Creek, just a couple miles from the Queen Creek Marketplace.
While we've been to many of the trampoline parks in the area, this has quickly become our favorite (so much so, that we now have a membership here which we've never done at any other trampoline park).
We planned on a two hour visit but that turned into a membership so we could go regularly. Partly because it's so clean and fun, and partly because it was so inexpensive to do so.
The space for the kids to play was very large and at the same time very open so they love jumping around from activity to activity.
As the parent, I love being able to see them easily even as they move around and it's very clean.
What to Expect
Just inside the door is a large cubby area where you can store your belongings. There is also a second wall of storage bins next to the admission desk and bathrooms.
There are also a few stations set up for you to complete waivers for your kids if you have not already signed one.
You will need to do this before paying and there was a sign up reminding us to complete the waiver before going to the admissions desk.
At the admissions desk each child will receive a wristband indicating if they have one two or three hours to play. Every hour of the staff does an ounce which bands time has ended.
I found the entire place to be very clean and well-kept. All of the equipment was in good condition.
More Nearby Fun: 43+ Fun Things to Do in Mesa
Despite there being lots of kids, running around and playing, I found it relatively easy to keep an eye on my kids, because it was easy to see so much.
If your time runs out and the kids want to continue playing, you can simply paying additional $5 for another hour of jump time.
All the staff we interacted with was very pleasant and helpful.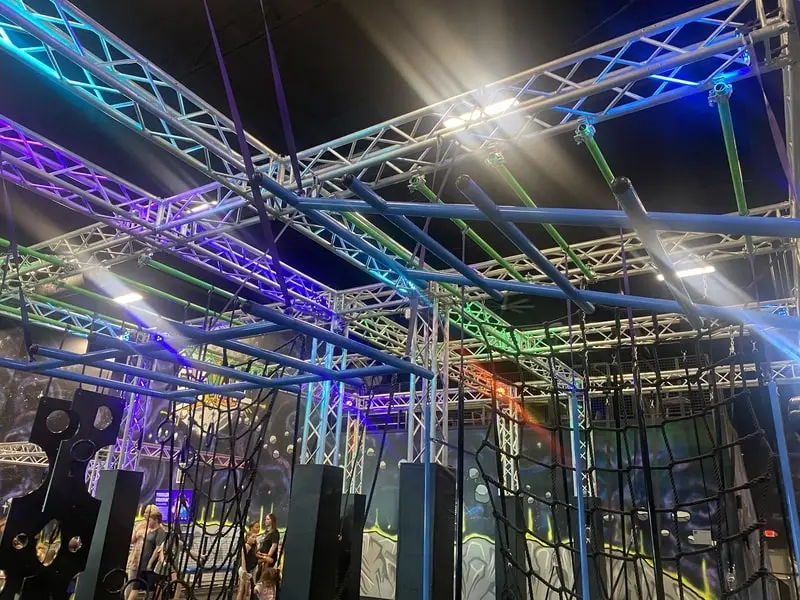 Attractions
There are a wide variety of attractions at Elevate in a variety of sizes.
Trampolines
Ninja course
Basketball
Zip line
Various swings
Dodgeball
Jump pillows
Silks
Rock wall
And more
And unlike some of the other jump places we've been too, they do have staff walking around the different attractions monitoring the kids.
For Parents
Parents are welcome to jump alongside the kids.
If you prefer to watch, there are many benches at the front of the trampoline area (although on the weekend, you may not be able to find space).
Some other trampoline parks like Uptown Jungle or Big Air Trampoline Park in Chanlder, have a nice parents lounge with TVs, comfy couches and even massage chairs.
The only problem is they are located in the back of the venue where you can't see your kids and there is no security or system to keep them from leaving out the front without you.
Elevate the other hand doesn't have a dedicated parents lounge, but as soon as you walk in the entrance, there is a large area with lots of tables and chairs.
I would say they're about 25 to 30 tables available, including a handful of larger tables for bigger groups.
Food & Concessions
They did also have a couple of team members working the concession stand. While we didn't get anything during our visit as we had just eaten, there were plenty of people who were ordering.
They offer small and large pizzas including cheese, pepperoni, sausage and a mix, as well as gluten free pizzas.
If you're not in the mood for pizza, they also have chicken strips. For snacks they have:
Nachos
Pretzels
Fries
Mozzarella sticks
Chips
And more
Events
Elevate hosts regular events so it's a good idea to check their calendar to see if you want to participate (or avoid the times if you don't want to participate).
Friday Night Mania!
On Friday nights from 5pm to 10pm, everyone can jump for 3 hours for $20 and receive 50% off 1 pizza and drinks.
Sensory Sunday
On Sundays from 9am to 10am, there is a quieter time for those with special needs. A parent can jump for free and kids can jump for $10
Lock-In
Parents can drop off kids (ages 8 to 14) for 4 hours of jump time, activities and pizza for $35.
Member Appreciation Night
Elevate hosts a monthly Member Appreciateion Night where members can bring a friend for free, jump and participate in games, get prizes and even do glow in the dark jumping.
Hours & When to Go
Elevate is open 7 days a week during the following days and times:
Monday – Thursday

: 9am to 8pm

Friday – Saturday

: 9am to 10pm

Sunday

: 10am to 6pm
Especially if you would like to go during non-busy times, it's best to check their online calendar (or give them a call) to see if there are any scheduled events or field trips at the time you want to go.
Admission, Pricing & Discounts
Anyone who isn't jumping doesn't have to pay and kids 18 months and younger are free (with a paying adult).
Note: Elevate grip socks are required and can be purchased for $2 if you don't have any.
Tickets are available for 90-minutes up to 3 hours and can be purchased online or on-site.
Prices are as follows:
90-minute jump: $19 ($14 for 6 and under)
2-hour jump: $22 ($17 for 6 and under)
3-hour jump: $25 ($20 for 6 and under)
They also have a number of discount times available at really good prices.
Discounts
There are a few discounts that Elevate offers:
(1) Family Night Discount: every Monday night from 5pm to 8pm, families can get 90-minutes for $10 per person.
(2) Homeschool discount: every Monday through Thursday from 10am to 2pm, kids can jump for 2 hours for only $10.
(3) Toddler discount: Monday through Thursday each week, kids 6 and under can jump for $10 for 2 hours. A parent can jump free with each child who pays.
(4) Thankful Thursdays: All day long every Thursday, bring a 2-liter of soda or a case of water which will be donated to a homeless shelter or food bank and jump for $10 for 2 hours.
Note: These hours toddlers receive a discount, however, this time is not exclusively for toddlers so kids of all ages can attend during this time.
Membership
They also offer a basic or an elite membership.
The basic membership gives you 2-hours of daily jump time during the week (Monday – Friday). This membership is $20.99 a month.
For $5 more, the elite membership at $24.99 a month, gives you 2-hours of daily jump time any day of the week including weekends. You also receive 20% off food and drinks and 30% off birthday parties.
Note: Memberships require a minimum of three months.
Even if we visit only two times a month for the next two months that would save us more money with the membership.
Good to Know Before Go Know
Elevate grip socks are required for jumping. If you don't have grip socks, they can be purchased for $2
No toddler area that will keep them in so keep that in mind for when it's busy. Better for kids 5+
Plan to arrive 10-15 minutes before you plan to jump (or longer during weekends and events) so you can maximize your jump time
There is free wifi in the building (no password needed) which works well
Birthday parties are also offered
Getting There & Parking
Elevate is located at 8946 E Germann Rd in Mesa, AZ and is just 2 miles from the Queen Creek Marketplace.
There is free parking surrounding the building.