If you're looking for the best amusement parks in Maryland for the whole family, you're in the right place!
These Maryland Amusement parks have it all – from indoor attractions to water activities to outdoor activities for the entire family.
The real question is…how many of these amusement parks can you visit this year?
For our family, we love to plan a family vacation around an amusement park so we can visit one or two and then explore other fun attractions nearby.
Here you'll find the top 9 amusement parks in Maryland and what you can expect at each of them.
#1 Jolly Roger 30th Street Amusement Park
Ocean City is one of the most popular beaches on the east coast and the Jolly Roger 30th St. Amusement Park is one of the most popular parks the city has with tons of outdoor attractions to keep everyone entertained.
The Jolly Roger Park has all kinds of fun things to do and since it's right along the boardwalk and beach, it's really in the perfect location in Ocean City.
You really can't go to Jolly Roger Park without riding the giant ferris wheel.
It's so neat to see the beach from up high as the giant wheel slowly takes you around letting you see so much of the beach, boardwalk and ocean city skyline.
Some of the attractions you'll want to look out for are:
The looping star roller coaster
Jolly Roger mini golf, aka Treasure golf (they have 2 golf courses in their parks)
Kiddie-sized fun rides
Free circus show (twice daily)
Note: Jolly Roger's has 2 park locations – one on 30th street and the other at the Pier
The kids also love a ride on the Iron Horse Express which is an antique train.
Local tip: don't forget to stop for some Thrasher's french fries as you leave!
#2 Adventure Park USA
Adventure Park USA has much more than just the roller coasters you would expect at any amusement park, they also have other fun activities like:
Go karts
Mini-golf course
Ropes course
Tons of arcade games
Laser tag
Bowling
Bumper cars
Rock wall
These attractions are split between indoors and outdoors.
There are also several kiddie rides if you are coming with smaller ones. There is definitely enough here for young children and older kids alike. Definitely makes for a family fun day!
Tip: if you want to avoid long lines, try going closer to when they open or during the week. If you're able to go during the off-season, that's even better!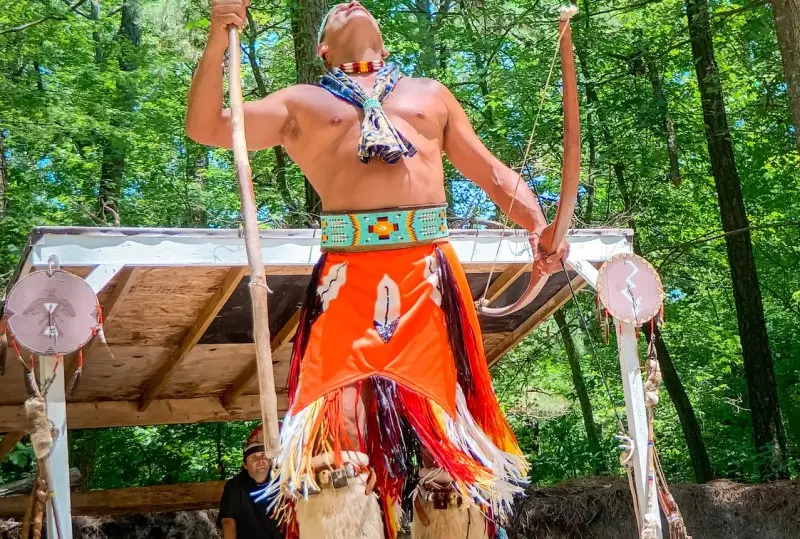 #3 Sun Outdoors Frontier Town Western Theme Park
8430 Stephen Decatur Highway, Berlin, MD 21811
This is one of the best theme parks near Ocean City and it has a special wild west theme.
At Frontier Town, there are 4 main types of activities you can participate in when they are open during the summer months:
Water Park
High Ropes Course
Western Experience
Mini Golf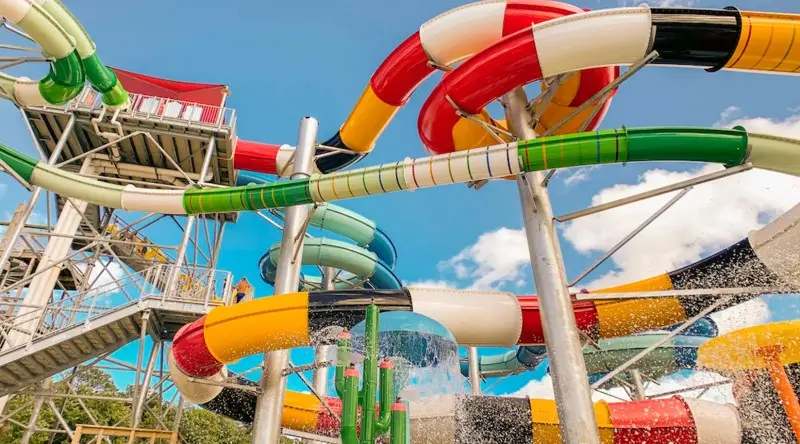 The western experience is really where it's at and what sets this place a part from the other amusement parks.
They have a number of shows that happen on the hour throughout the day like a Native American show, a gunfight in the streets, Texas trick riders and several others.
READ NEXT: Planet Snoopy & More at Kings Dominion
They water park has all the exciting attractions you'd want to come from like high-speed water slides, a lazy river, splash pad for the younger ones and more.
You can do the ropes course and zip lin or get a package to do both! The rope course is recommended for anyone age 12 or older.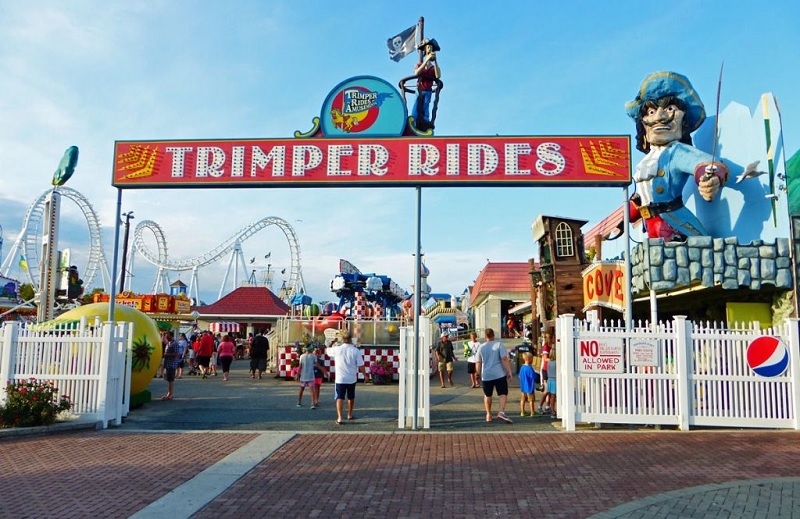 #4 Trimper's Rides
Trimper's Rides is one of the amusement parks in Ocean City and it's right on the boardwalk!
This is an iconic part of the city as it's been around since the late 1800s. It's that place you went as a kid and can now take your kids.
It's a great place to take the family if you want to find some rides that the adults will really have fun on, plus still have plenty of rides to get the little ones excited.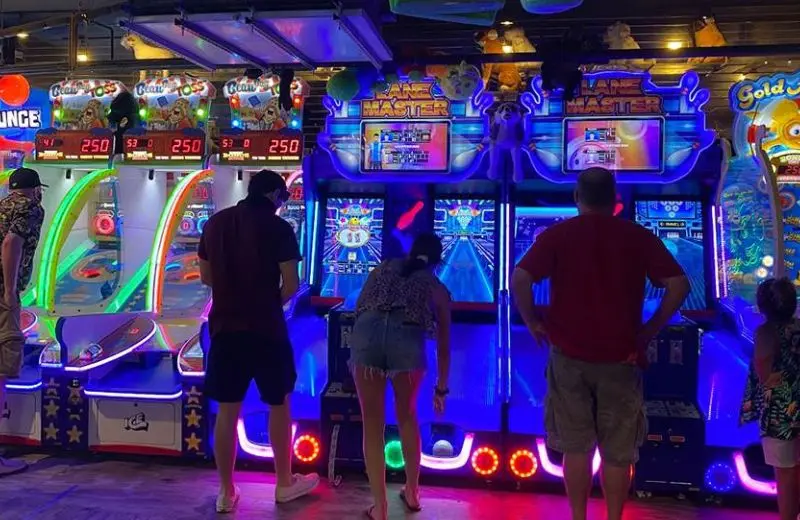 There are both indoor and outdoor rides here. The indoor rides are the older ones, more original, whereas the outdoor rides are all the newer ones. Inside you'll also find a huge arcade.
This is one of the things we do in Ocean City every time we come.
Some of the rides you don't want to miss are:
Himalaya ride
Area 51
Big White One
Ferris Wheel (so fun overlooking the beach!)
Don't forget to save room for some Trimper sweets & treats!
#5 Baja Amusements
The biggest attraction at Baja Amusements is the go-karts. They have 3 family tracks so you can go on your own or in a double seater.
What's especially nice is they also have a Rookie Track which is for kids ages 5 to 7 only.
The longest track they have is 3/8ths of a mile and has several turns.
In addition to go-karts, they also have:
19-hole miniature golf course
Climbing walls
Bumper cars
Frogg Hopper (for little kids)
Carousel
We really had a great time here and didn't experience the long lines of the bigger amusement parks nearby.
Plus, they had a snack bar so we didn't have to leave the moment my kids got hungry.
#6 Chesapeake Beach Water Park
Sitting along the Chesapeake Bay, Chesapeake Beach Water Park is a fun place to cool off on a hot day as you whip down a water slide, walk under a waterfall or play around in the pool.
The prices are different for those visiting from outside of North Beach or Calvert County so a pass is great for locals, although the price has increased significantly if you're not an area resident.
What they do have here is:
A lazy river that wraps all the pools
A waterfall
Water sprays
A water slide with single and double tubes
Plenty of pool space
#7 Six Flags America
One of the most well-known amusement parks in Maryland is Six Flags America in Upper Marlboro.
Six Flags America is an amazing place is another amusement park that has rides and a water park for you to enjoy.
They have some really fun special events and live entertainment throughout the year so make sure to keep an eye out for those if you'd like to visit when they have a special theme going on.
Here you'll find thrill, family, kid, wild and water rides – each with their own fun activities so you can find something fun for kids of all ages (and their adults too, of course!).
So if you're looking for a new ride to enjoy, some of the popular water and roller coaster rides are:
BATWING Coaster (thrill)
Superman Ride of Steel (thrill)
High seas (family)
Minutemen motors (family)
Yosemite Sam's Hollywood Flight School (kids)
Great chase (kids)
Hurricane Bay (water)
Shark Attack Mako (water)
They also have plenty of concession stands throughout the park so you'll never be without food or snacks when needed.
#8 Splash Mountain Water Park
Splash Mountain Water Park is another park in the Jolly Amusement family. What we love about this water park is that it's right on the beach and you can even see the beach from a number of the attractions which is really cool!
The water park has tons of outdoor rides and features like:
Lazy river
Wave pool
Water rides
Half-pipe slide and other slides (including double tubes)
Several water rides including the popular Eye of the Hurricane
The Splash Mountain Mermaids also make an appearance in the kiddie area so the kids get a chance to be in the water with mermaids and talk to them.
The Stealth ride is a tall vertical ramp which you ride down in a double tube. Unique and fun!
If you're brave enough, you can ride the Aqualoop which a transparent water slide. When the trap door opens you'll drop down quickly into the slide and take off!
#9 Water Park at Bohrer Park
If you'd like to spend the day having fun but not have to visit an enormous place or deal with huge crowds, a smaller water park is a great option.
The City of Gaithersburg's Water Park at Bohrer Park is the perfect place for just that. They have a very nice, clearn pool with plenty of shallow play space for the little kids.
For the older kids, they'll lvoe the 260-foot waterslide.
You won't find all the thrills and attractions of the bigger water parks but sometimes this is all you need.
#10 Speedworld Go-Karts
One of my kids favorite things to do is visit the go-kart tracks. And for this we typically head to Speedworld Go-Karts.
Speedworld is part of the Jolly Roger Amusement Park family and since we frequent their facilities pretty much every summer, we always find outselves here too.
They have 12 different tracks that you can choose from so everyone can pick what looks the most fun for them.
They do have some unlimited passes if you want to ride a lot.
And if you have younger kids with you and they may not meet the minimum height restriction, the go-karts are 2 seaters so they can ride along with you.
#11 Grand Prix Amusements
Grand Prix Amusements is another amusement park in Ocean City so this is another place you'll want to visit during the summer. They have a number of attractions like:
Go-kart tracks
Batting cages
Bumper boats
24-foot climbing wall
Bumper cars
The go-karts are also a lot of fun here. They have many tracks including a pro-track to choose from. Kids do need a driver's license to be able to drive here though.
You can easily spend a few hours here.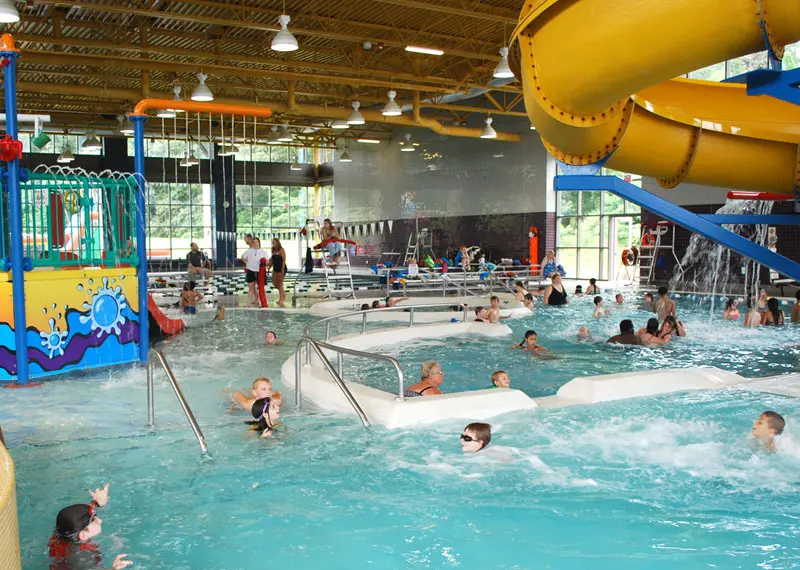 #12 North Arundel Aquatic Center
The North Arundel Aquatic Center is the place to go when you want your smaller kids to have some fun but you're not quite up for a big amusement park.
They have an indoor kid's water park that has a 130+ foot slide, smaller slides for the littlest ones, a slashdown area and water buckets.
They also have a zero-depth entry pool.
READ NEXT: 15 Best Indoor Water Parks in Maryland and Virginia
#13 Adventure Park at Sandy Spring
The Adventure Park at Sandy Spring is one of my all time favorites!. If you're looking for a little outdoor adventure, this is the perfect place!
This is such a unique experience where you'll go through an aerial forest ropes course. Being up in the treetops is fun and different.
You'll have to get past different obstacles and take zip lines from platform to platform. Plus there are:
Tightrope walks
Swinging logs
Rope bridges
And other challenges along the way
There's nothing better than a little adventure in nature!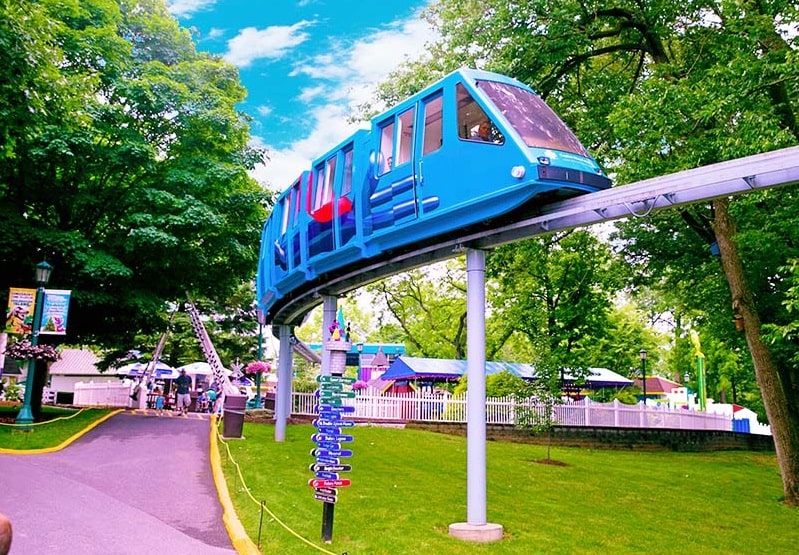 Another Option
Dutch Wonderland is another great option especially if you are in the Baltimore area. You can easily do a day trip here without needing to stay overnight.
Visiting Amusement Parks in Maryland
Make sure to check social, websites and Groupon for special offers.
If you plan on visiting any of these places regularly, several of them offer a season pass to help you save on multiple visits.