Looking for the best water parks indoors to visit with your family? If you're in Virginia or Maryland, then this is just the list for you!
When there isn't good weather and you want to avoid the outdoor waterparks, there are so many great water parks you can still enjoy.
And if you have kids of all ages to entertain, you'll definitely be able to find a waterpark where the entire family can have fun.
Here you'll find a list of the 15 best indoor water parks in Maryland and Virginia.
Maryland Indoor Water Parks
#1 Rollingcrest-Chillum Splash Pool
6122 Sargent Road Chillum, MD 20782 | Website
The Rollingcrest-Chillum Splash Pool is a popular indoor waterpark with families in Maryland. We have found this pool to be more geared toward the younger kids
The features of the Rollingcrest-Chillum Splash Pool include:
Kid's Pool
Lap Lanes
Main pool
Water Slides
They offer a Family Swim option in their children's pool which can be fun for the whole family so make sure to check the calendar on their website for details.
#2 Germantown Indoor Swim Center
18000 Central Park Cir, Boyds, MD 20841 | Website
The Germantown Indoor Swim Center is another nice, local indoor waterpark where the whole family can enjoy tube slides, a diving platform, and pools.
The older kids here really enjoy the 36-feet high, large tube slides, while the younger kids can enjoy the water slides set in a rock formation.
Even the littlest in the family can play in the zero entry part of the pool.
We love coming here for an inexpensive and fun outing!
#3 North Arundel Aquatic Center
7888 Crain Hwy, Glen Burnie, MD 21061 | Website
If you're looking to visit a leisure pool (with zero-depth entry), this is where you can go. This definitely isn't one of the bigger waterparks and is best for young children.
Older kids may get bored as there is not as much to do as some of the larger waterparks, however, they can certainly be entertained for an hour or two.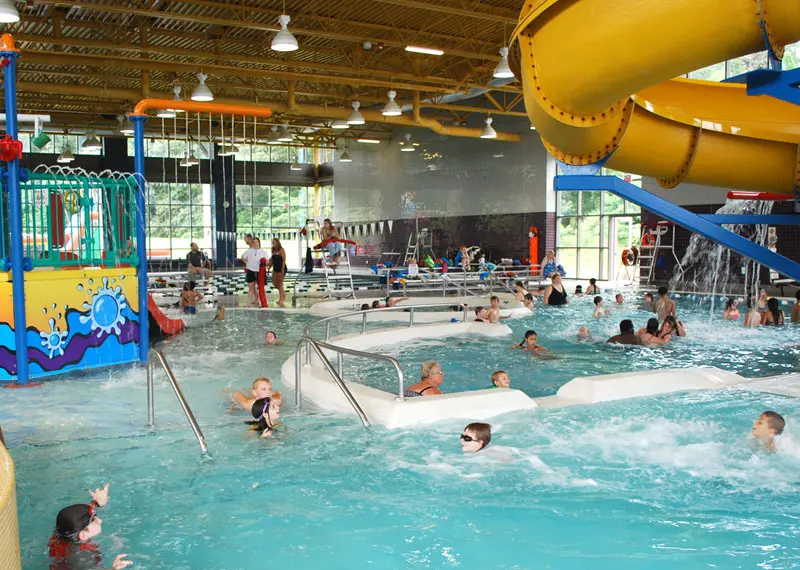 When visiting the North Arundel Aquatic Center, you'll be able to enjoy their water features like:
A 134-foot water slide
Splash down area
Water buckets
Preschool water slide
Very friendly and engaging staff. Price is reasonable. Clean with lots of room to swim. Personally, this is very close to home, also.

– Mary Wolle (Google Review)
This water park is open year-round. Do keep in mind they have classes and it can be a good idea to check their schedule before heading there.
#4 Caribbean Key Indoor Pool
12806 Ocean Gateway, Ocean City, MD 21842 | Website
Inside Francis Scott Key Family Resort is the Caribbean Key Indoor Pool. Our family visits Ocean City most years and we've really enjoyed staying at this resort (and the pool is definitely one of the reasons why!)
The water is always 82 degrees and they even have a retractable roof for when the weather permits.
Keep in mind, they are closed from November to February. Going early or late in the season is nice because there are less people.
READ NEXT: 7 Best Indoor Water Parks Near Delaware
If you do go off season, make sure to check the other fun Ocean City attractions are open so you don't miss anything you want to do.
#5 Martin Luther King, Jr. Swim Center
1201 Jackson Rd, Colesville, Silver Spring MD 20904 | Website
"Nice facility! I really appreciate the indoor kayak pool sessions in the winter!" It's great to have an affordable, convenient option for experienced paddlers to practice our skills in the warm pool.
Note these kayak sessions are for more advanced paddlers as they don't include instruction (though many participants will be happy to spot your roll attempts). If you're a real beginner, check out the lessons from Valley Mill and Calleva instead.

-Kirsten Suhr (Google Reviews)
The Martin Luther King, Jr. Swim Center offers swim lessons all year around.
It's not a big waterpark, but it does have some unique features such as an indoor pool, kayaking, and more.
#6 Great Wolf Lodge in Maryland
Baltimore / Perryville, MD | Website
Great Wolf Lodge is very popular and for good reasons, so we're very excited to hear they are opening their biggest lodge yet in Maryland!
The facility is currently under construction and is expected to open in mid to late 2023.
Imagine 126,000-square feet of water-filled fun indoor water park, which will be one of a kind among the popular indoor water park resorts in the DMV area. We can't wait to visit!
READ NEXT: 9 Best Indoor Water Parks in Pennsylvania
#7 Kennedy Shriver Aquatic Center
5900 Executive Blvd, Rockville, MD 20852 | Website
While the Kennedy Shriver Aquatic Center is popular for its indoor pool, when the kids want a waterpark and you want a local and lower-cost option, this is a good option.
The main pool itself is quite large and they have a very long slide that wraps the side of the pool.
There is also a waterfall feature in the kiddie area for the kids to walk through the water while standing in the shallow end of the pool.
Not the most exciting but definitely enough to keep the kids entertained and having fun in the water for an hour or two.
They do have a lot of classes on diving, swimming, and other water activities so you may want to check the schedule before going to make sure you won't have to swim around the classes.
#8 Columbia Swim Center
10401 Cross Fox Ln, Columbia, MD 21044 | Website
Columbia Swim Center is known for their indoor water area called SplashDown. They have a pool that is exclusively used for kids using the slides (must be 4-feet tall), diving board and rope swing.
My kids love the rope swing as the other local aquatic centers don't have one. There is also another pool just used for swimming.
The hours for Splashdown change throughout the year so I definitely recommend checking their website, or even better yet, calling to make sure they are open (including the slides and rope swing).
Virginia Indoor Water Parks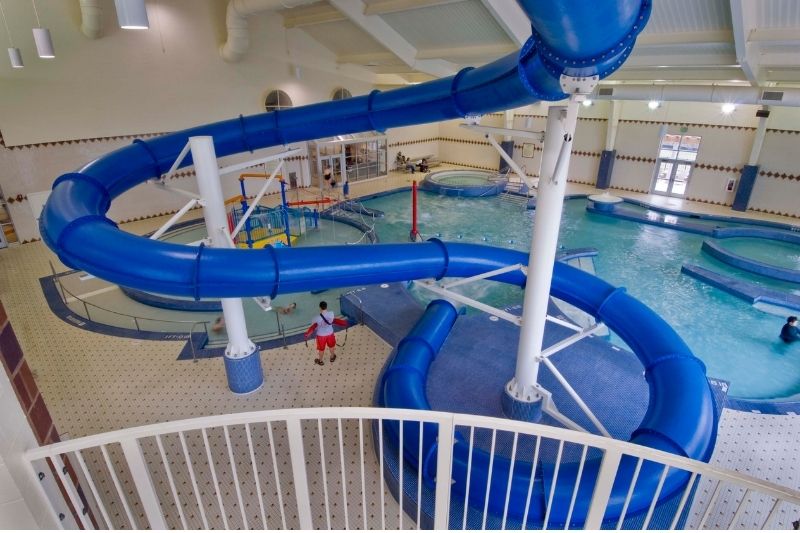 #9 Claude Moore Recreation & Community Center
46105 Loudoun Park Ln, Sterling, VA 20164 | Website
Claude Moore Rec Center is a place where younger and older children can have fun, which isn't always possible! The facility is co-located within Claude Moore Park.
I personally appreciated the warmer air temperatures than some of the other centers have had, making my time more enjoyable.
My littlest one went straight to the kids' play structure in the middle of the kiddie pool and my older child darted straight for the water tube slide that starts from the ceiling.
After we're done in the pool, my oldest always wants to give the rock wall a go (it's included in the price of admission).
Some of the reasons we enjoy this rec center are the:
Lap Pool
Hot Tub/Spa
Leisure Pool with Water Features
Playground
Rock Climbing Wall
Activity Pool
#10 Massanutten Resort and Indoor WaterPark
1200 Adventure Dr, Massanutten, VA 22840 | Website
I always look forward to a vacation in Massanutten and when we go we usually stay at the Massanutten Resort which is home to the Massanutten Waterpark.
The water here is kept at 84 degrees and has some seriously fun features to keep the kids happily entertained for several hours. This place is really so much fun for all of us!
Not only can you surf on their waves, you can enjoy all the attractions including:
Water fortress
Inflatable adventures
Body slides
Pools
Lazy river floats
Hot Tubs
#11 The St. James Indoor Waterpark
6805 Industrial Rd. Springfield, VA 22151 | Website
If you want to turn this chilly weather into your kids' summer vacation, this is the perfect place for you. The St. James isn't just an indoor waterpark.
They have lots of other fun attractions so be aware that your kids aren't going to want to miss out on the other fun they see (think 30,000 square feet of fun including a:
Ninja course
High ropes course
Trampolines
Climbing structures
VR games
and more
The waterpark itself has several slides, sprayers that shoot water in different direcions, and water filled buckets waiting to pour on you.
MORE WATER FUN: 7 Water Parks in Maryland: Huge Slides, Wave Pools, Lazy Rivers & More
#12 Great Wolf Lodge Williamsburg
549 E Rochambeau Dr, Williamsburg, VA 23188 | Website
Often touted as one of the best indoor water parks in Virginia, Great Wolf Lodge certainly has a lot to offer.
This is one of the bigger waterparks and is definitely designed to keep the kids entertained for many, many hours. They have features like:
Fort Mackenzie (A fort treehouse)
Slap Tail Pond (Wave pool)
Crooked Creek (Lazy River)
River Canyon Run (Water slide)
Alberta Falls (Tube Ride)
Whooping Hollow (Splash Pool)
Cub Paw Pool (Kiddie Pool)
We recently went to Great Wolf Lodge in Williamsburg and had an awesome time.
Plus, there is plenty of other fun activities nearby so you can spend several days in the area if you want to.
We went here for indoor water park this thanksgiving. It was an awesome experience. Its kid friendly. They rent warm towels , jacket tubes. We had a very awesome experience in water slides. There were lot of activities as well. The rooms were nice and clean. They had fridge . Microwave. Lots of towels. Bed was nice. Room was spacious as well. Loved the food at loose moose buffet. Had duper fun at arcade as well.

-Indira
#13 Fort Eustis Aquatic Center (JBLE Aquatics)
641 Tyler Ave, Fort Eustis, VA 23604 | Website
JBLE Aquatic Center is a great place for a family swim and fun in the water. My oldest loved the 3-story water slide, whirpool and of course we all enjoyed the lazy river.
My younger one like the mushroom waterfall and the whirpool too.
I also liked that the kids area was only got as deep as 3.5 feet so the kids are able to move around the pool and waterpark withotu you having to worry as much.
They do have a lap pool with dedicated swimming lanes as well. Do be aware, this is on a military base but civilians are allowed.
Why we come:
3-story water slide
Mushroom waterfall
Whirlpool
Lazy river
Adventure pool
WATER FUN: 7+ Water Parks in Northern Virginia: Wave Pool, Lazy River & More
For the amount of fun you'll have, I'm very surprised how little it costs!
#14 Warrenton Aquatic and Recreation Facility (WARF)
800 Waterloo Rd, Warrenton, VA 20186 | Website
The Warrenton Aquatic and Recreation Facility has a lot to offer.
This indoor water park in Virginia sits in a 59,738 square-foot building that has:
11 swimming lanes
A large indoor competition pool
A leisure pool with an open slide
A lazy river
A vortex and zero-depth entry
We found the facility to be large and very clean. When the weather permits, we like to head outside to the playground and skate park.
The place is beautiful, I love it, my family love it , my kids love it , I love it . The place is perfect for everything from parties to working 💪 out and just playing in the water with the kids and then just chill in the hot spa , the park outside. The place is perfect 👌 😍 ✨ ❤ ♥ 🙌 👌 😍

– Rigardo
#15 Long Bridge Aquatics & Fitness Center
333 Long Bridge Drive, Arlington, VA 22202 | Website
It's nice to have an option to swim indoors in Arlington and let me tell you, this cener is beautiful and dare I say, even has a great view!
But that's not what we're focused on here! This aquatic center has a fun tube slide, water play structure for kids and more.
While they have a 50-meter pool, we come for the leisure pool that has:
Water slide
Lazy river
Water play structure & features
Lap lanes
Splash pads with some fountains and a few spray features
Visiting Your Favorite Indoor Waterpark in MD and VA
While there are plenty of indoor water parks out there, we have listed some of the best ones for you to pick one and have a great time with your family.
Many of these options also have an outdoor pool and some even have other fun things to do besides just the waterpark.
More Nearby & Outdoor Water Park Attractions