Between all the fun in downtown Lancaster, the amusement parks, the Amish Farm, special events and perhaps even a hot air balloon ride, you gotta eat!
But you don't want to eat just anything. The restaurant should at least be a memorable experience or a more unique experience.
Afterall, you're here in this popular destination within Pennsylvania Dutch Country to enjoy and have a great experience with something new and an old-fashioned way of life.
So no chain restaurant on this list. Just fresh food, unique flavor, craft beers and everything from casual dining to full-service restaurants and fine dining. No matter whether you're dining alone, on a family trip or have different people to please, you'll find some excellent options on this list.
That's why here we're sharing all the fun places to eat in Lancaster PA.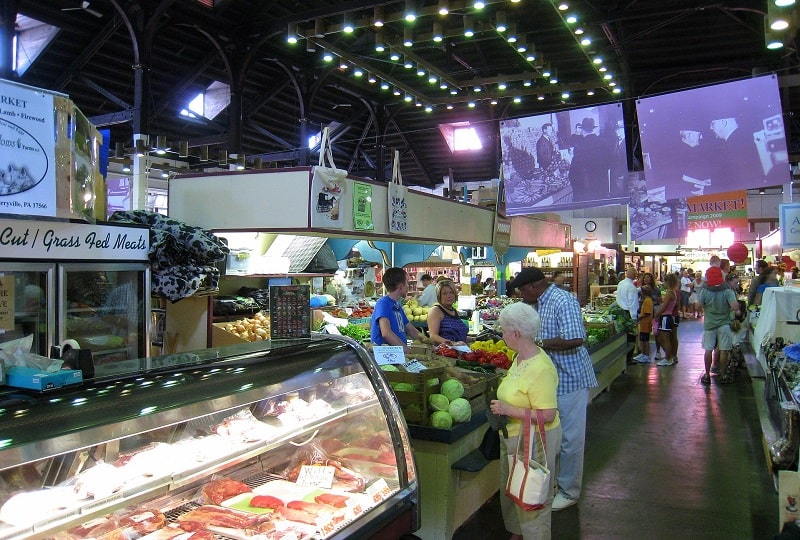 #1 Lancaster Central Market
On our last visit to Lancaster we visited the Lancaster Central Market expecting to shop but we ended up staying to eat and were so glad we did!
The market itself is a great place to shop for fresh produce, meats, cheeses, baked goods and has some of the best food to try in town.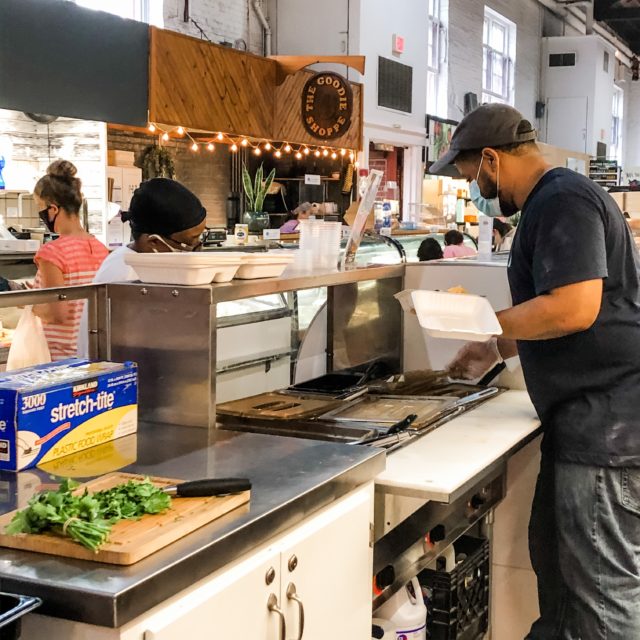 While you shop, you have to stop at one of the vendors for a delicious bite. Here are some of our favorite:
Empanada Gourmet
Oola Bowls
Christina's Criollo (for some delicious baked chicken, yucca, beans and plantains)
Farm 2 Table Creations
Havana Juice (where juice is sweetened with freshly pressed sugar cane juice)
Soulcialize Catering (for some gumbo, collard greens and mac n' cheese that you won't easily forget)
FUN FACT: The Lancaster Central Market is the oldest continuously operating farmers' market in the United States.
This is definitely a great place to grab a delicious bite to eat and be surrounded with very friendly people. If you go on the weekends, expect crowds. You may not always get a seat but once you try the food you won't even care!
#2 The Big 5 African Cuisine
We typically head here after a day at going through the interactive exhibits at the Lancaster Science Factory or the North Museum of Nature and Science.
After exploring the interactive exhibits and taking in the sights, we're ready for a delicious meal to satisfy our hunger and taste buds.
The menu at The Big 5 African Cuisine features a variety of dishes from different regions of Africa, allowing you to try something new and exciting. Whether you're in the mood for spicy Ethiopian cuisine or flavorful West African dishes, there's something for everyone here.
Some of our favorite dishes at The Big 5 are:
Pilau rice
Beef stew and cabbage
Kuku Choma (chicken)
Lentil stew
Kenyan Kebabs and Samosas
One of the standout dishes at The Big 5 is pilau rice, an East African staple made with rice, meat, and spices.
Make sure to also get some of their Chapati.
What to Try? One of the standout dishes at The Big 5 is the Jollof Rice, a West African staple made with rice, tomato, and spices. It's quite filling and is perfect for sharing with a group.
The staff is also very happy to share more about the dishes if you are not familiar with any of the plates making it an overall great experience.
#3 Kitchen Kettle Village
I was thrilled to finally visit the Kitchen Kettle Village during my last visit to Lancaster. The village had been on my list for years, and I couldn't wait to explore the charming shops and taste the mouth-watering cuisine.
While not a restaurant itself, Kitchen Kettle Village is a picturesque shopping and dining village with over 40 specialty shops and restaurants so you can find a variety of food to try here.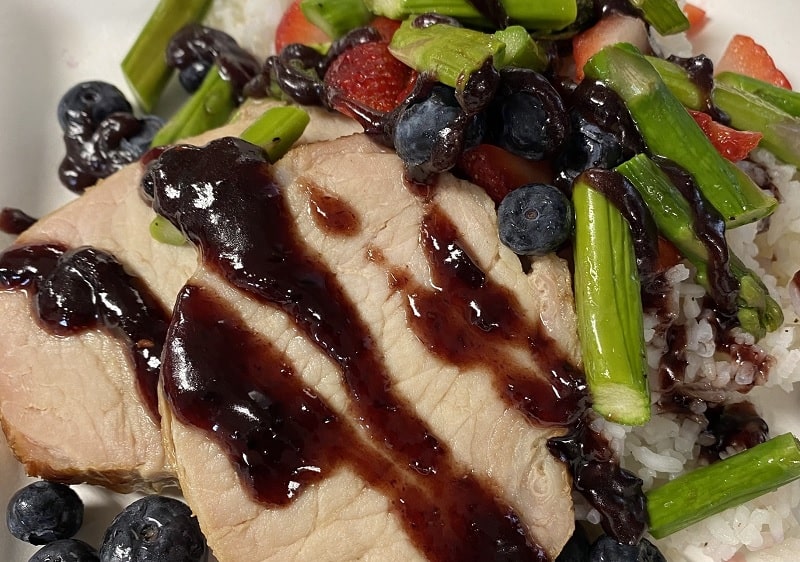 Whether you're in the mood for fresh-baked bread, homemade jams, jellies, or mouth-watering Pennsylvania Dutch cuisine, Kitchen Kettle Village has something for everyone.
Some of the places you'll want to stop are:
Kling House Restaurant
Jam & Relish Kitchen
Harvest Cafe
The Bake Shop
Tradition Meets Gourmet
I started my culinary journey at the Jam & Relish Kitchen, where I watched the skilled artisans create delicious jams and relishes in traditional copper kettles which is definitely one of the highlights. We even got to taste some samples of a few of the over 90 varieties of jams, jellies, and relishes made on-site with flavors like:
Blueberry jam
Hot pepper jam
Apple butter
In addition to the Jam & Relish Kitchen, Kitchen Kettle Village features a variety of other specialty shops, including a fudge kitchen, a cheese shop, and a wine cellar. The village also has several restaurants offering various dining options, from casual outdoor cafes to more formal dining experiences.
One of the most popular restaurants at Kitchen Kettle Village is the Kling House Restaurant, which serves up traditional Pennsylvania Dutch dishes like:
Chicken pot pie
Baked ham
Shoofly pie
The Kling House Restaurant is in a beautiful historic building with a cozy and charming atmosphere.
In addition to the food and shopping, Kitchen Kettle Village also hosts various special events throughout the year, including a Christmas festival, a fall festival, and a spring celebration with the village's delicious food & drinks, live music, craft demonstrations, and other fun activities.
#4 Annie Bailey's Irish Public House
As I walked down the charming streets of downtown Lancaster, PA, I couldn't help but notice the lively energy coming from Annie Bailey's Irish Public House. It was a chilly evening, and the warm glow of the pub's windows was incredibly inviting.
The traditional Irish decor, dark wood paneling, and cozy booths created a comfortable and welcoming atmosphere.
Annie Bailey's Irish Public House is a classic Irish pub located in the heart of downtown Lancaster, PA. This popular spot offers a unique atmosphere with traditional Irish decor and live music performances and Irish dancers.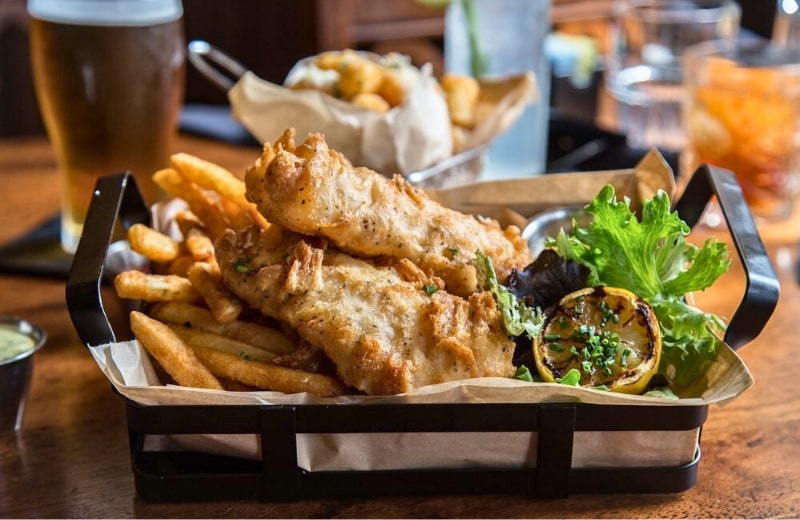 The menu has wide variety of Irish and American cuisine, with a particular focus on classic pub fares such as:
Fish and chips (the fries are delicious!)
Shepherd's pie
Bangers & mash (with 2 large sausages on top!)
One of Annie Bailey's standout features is its extensive selection of Irish whiskeys and beers. Whether you're in the mood for a pint of Guinness or a shot of Jameson, you will find something to suit your tastes.
The bartenders know the different varieties of whiskey and are always happy to make recommendations based on your preferences.
In addition to its delicious food and drink offerings, Annie Bailey's hosts' various events throughout the year, such as trivia nights, live music performances, and holiday celebrations.
This is a great, casual spot to grab a drink and some comfort food in an authentic Irish pub experience.
#5 DJ's Taste of The 50's
If you'll be visiting or staying at The Old Mill Stream Campground next to Dutch Wonderland or visiting The Amish Farm and House's guided house tour and one-room schoolhouse, DJ's Taste of The 50's is the perfect place to eat. Located on Old Philadelphia Pike, it's only a few minutes from each location.
DJ's Taste of The 50s is a retro-style diner that transports visitors to the 1950s with its decor, menu, and atmosphere. The restaurant has a wide selection of classic American comfort food, including:
Burgers
Hot dogs
Sandwiches
Salads
Fries
Milkshakes
Sundaes
The restaurant's interior is decorated with vintage memorabilia and 1950s music playing in the background, giving customers a truly immersive experience. DJ's Taste of The 50s also offers outdoor seating where you can enjoy your meal.
Even the kids meals are also served in a classic car shaped box!
DJ's Taste of The 50s is a popular spot for families as it has a kid-friendly atmosphere, and a good children's menu.
Sometimes the restaurant also hosts annual events like car shows, sock hops, and other events that attract visitors from all over. The diner is a must-visit destination for anyone looking for a taste of nostalgia and good food.
#6 Max's Eatery
I planned a surprise visit to Max's Eatery with my family for my sister's birthday. I wanted to treat her to a memorable dining experience. Max's
Eatery, located in the heart of downtown Lancaster, PA, had been on my radar for quite some time, and I was excited to try it out finally.
As we walked in, we were immediately impressed by the warm and inviting ambiance of the restaurant. The decor was chic and modern, with cozy lighting and a relaxed atmosphere. We were promptly greeted by the hostess, who showed us to our table.
The menu at Max's Eatery was a mix of American and Mediterranean cuisine made with locally sourced ingredients. They also offer an extensive beverage menu of milkshakes, mocktails, cocktails, floats, and punches.
We could also enjoy their counter stools and the kids enjoyed Nana's Cereal Bar with various cereals available.
Their menu included favorites like:
Quick Cluck 3.0

: a griddled buttermilk herb marinated chicken breast with cheddar cheese and other toppings


SmashBurger

: a smashed and griddled beef patty on a butter grilled Alfred


Fish and chips

: with waffle fries or tater tots


Burrito jefe

: with hot sausage and scrambled eggs


The Gobble

: a turked sandwich on a pretzel roll with an egg and other toppings
They also serve breakfast all day long so you can enjoy waffles, corned beef hash and Nana's cereal bar all day long!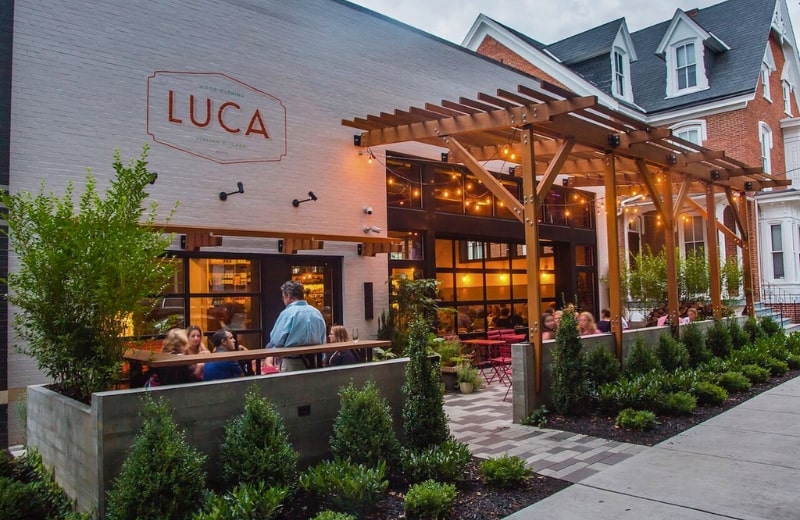 #7 LUCA
Luca is the place to go for wood-fired pizza
This cozy Italian restaurant in Lancaster, Pennsylvania, is a favorite among locals and visitors alike.
Luca's menu features a variety of pizzas cooked in a wood-fired oven and other Italian dishes such as pasta and salads. The restaurant uses high-quality ingredients to ensure every dish is flavorful.
One of the standout items on the menu is the Margherita pizza. This classic pizza is made with bianco di napoli tomatoes, fresh caputo mozzarella, and extra virgin olive oil. The crust is crispy on the outside and chewy on the inside, creating the perfect balance of texture and flavor.
Other dishes you may want to try are:
Zucca Raviolo
Bianco-Rosso pizza
Wood-grilled halibut
They also have both outdoor covered and uncovered patios for you to enjoy when the weather allows. This tends to be a popular place so make sure to make a reservation.
Local tip: If you're looking for something a bit fancier, head to C'est La Vie. This French bistro is located just a few blocks away from Luca and offers a more upscale atmosphere. While the pizzas at C'est La Vie may not be cooked in a wood-fired oven, they are equally delicious and feature unique toppings such as smoked salmon and brie.
Luca is a popular spot, so be sure to make a reservation if you're planning to visit during peak hours. And don't forget to save room for dessert – Luca's Nutella pizza is a must-try!
#8 Shogun Japanese Steakhouse and Sushi
An authentic Japanese restaurant can be hard to come by, but Shogun Japanese Steakhouse and Sushi offers a dining experience that will transport you straight to Japan. From the moment you enter the restaurant, you'll be greeted by traditional Japanese decor and welcoming staff.
At Shogun, the focus is on the art of teppanyaki, a Japanese cooking style where the chef prepares your meal on a large, flat grill right before your eyes. You'll be treated to a mesmerizing display of knife skills, flames, and sizzling meats and vegetables.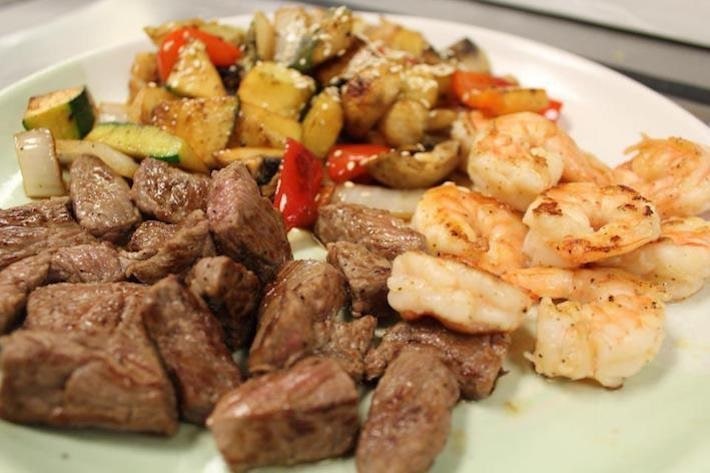 The skilled chefs will entertain you with their showmanship, all while preparing a delicious meal you will remember.
If you're not in the mood for teppanyaki, Shogun also offers an extensive sushi menu with a variety of rolls and sashimi. The sushi is made fresh to order, using only the highest-quality ingredients.
For a truly authentic experience, try the omakase, a multi-course chef's choice menu showcasing what Shogun offers.
In addition to the delicious food, the service at Shogun is top-notch. The waitstaff is knowledgeable and attentive, ensuring an exceptional dining experience.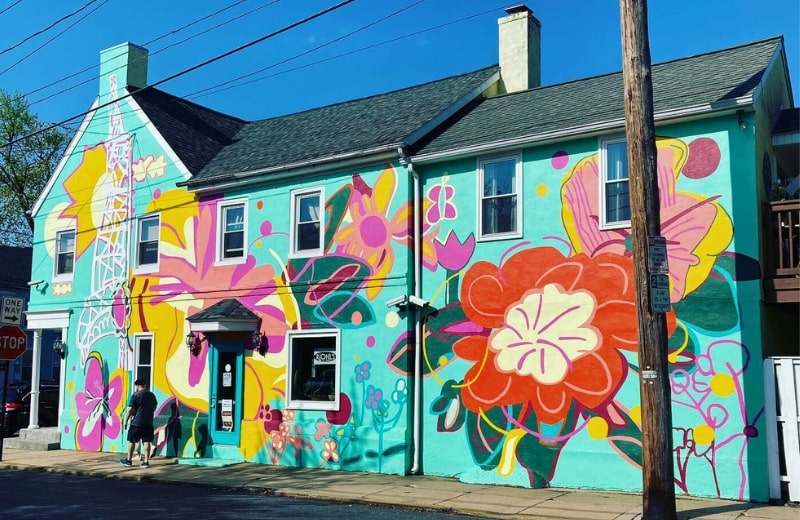 #9 Rachel's Café & Creperie
Rachel's Café & Creperie has 2 locations – one near the Lancaster Central Market and several Lancaster museums (which is also the closest location to Dutch Wonderland), and another location more north near the Hands-on House.
We love stopping in for breakfast or lunch to enjoy their really great crepes. Crepes from Rachel's just may be the best food there is!
One time we passed by when it wasn't lunch time and we still stopped in for a dessert crepe! Whether you're in the mood for something sweet or savory, Rachel's has got you covered.
Personally, I love their crepes with fresh fruits. Some of the popular crepes and menu items are:
Phillt cheese crepe
California chicken
Rodeo (with eggs, sausage/bacon and cheese)
Nutella
Cookies
Pecan turtle cheesecake
You can also skip the coffee shop and just come here as, while they don't have a full espresso menu, they do have a decent selection of coffees to go with your meal. And if you're looking for a quiet spot to enjoy your coffee and a crepe, Rachel's is an excellent alternative to the typical coffee shop.
Local tip: if you plan on visiting Rachel's, get there early on Saturday mornings, as it's a popular spot for locals to grab breakfast.
And if you're looking for a great place for Sunday brunch, Rachel's is a perfect choice.
#10 Dutch Apple Dinner Theater
If you want a unique and memorable way to spend an evening in Lancaster, PA, you should check out the Dutch Apple Dinner Theater. This theater is a year-round entertainment facility that offers full-length musicals, children's productions, and a variety of dining options.
Children older than 3 are welcome to attend, especially as they have children theatre performances. While there is no kid menu here, they do have a kid-friendly selection (think burgers, pizza, chicken tenders, etc) especially during the family shows.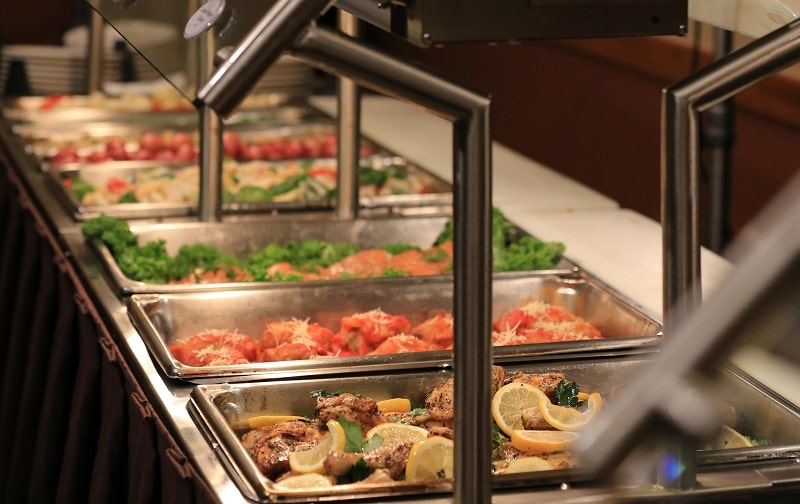 The Dutch Apple Dinner Theater has provided Broadway-caliber shows and great food for over 30 years. The theater has a capacity of 328 seats, which creates an intimate and immersive atmosphere for the audience. The performers can connect with the viewers on a deeper level, making each show a truly unforgettable experience.
The theater also boasts an exceptional dining experience, with a menu that caters to different tastes and preferences. Enjoy a full, all-you-can-eat buffet before each Sunday – Wednesday evening and all matinee shows which is included in your ticket.
You can savor prime rib at the carving station on Friday and Saturday evenings.
On Thursday evenings, you can also choose to see the show without dinner. There are still dinner options available along with appetizers, desserts and drinks.
Local tip: arrive 30 minutes before your show to allow time for seating and to order or pick-up your food before the show starts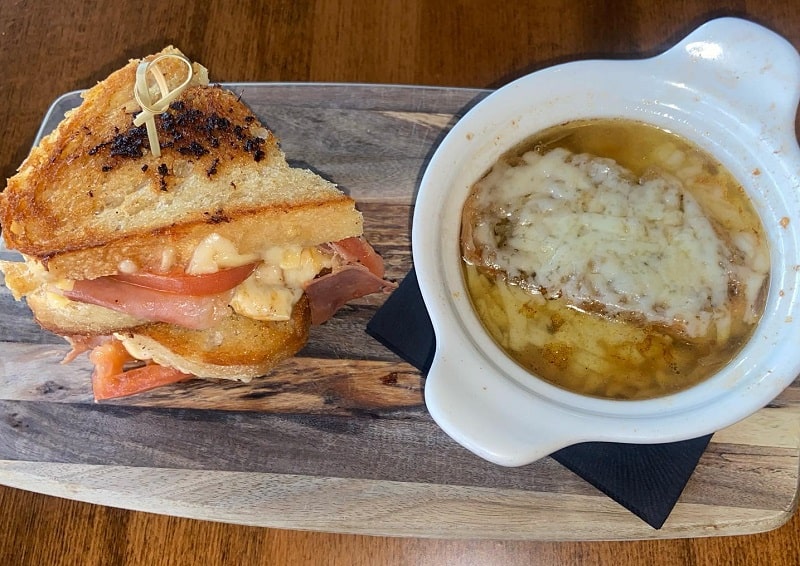 #11 Stoner Grille
Stoner Grille is located within Stoner Commons at Overlook Park which is one of the reasons why we love this restaurant.
Before we get to the food, let's talk about the fun! Overlook Park has lots of fun for when you're done dining including:
18-hole mini golf course
Public swimming pool
Skate park
Indoor roller-rink
Dog park
Bocce ball facility
Picnic pavilion
2 playgrounds
Walking trail
Disc golf
And of course, the restaurant – Stoner Grille.
Stoner Grille has a diverse menu for every taste. From classic burgers and sandwiches to unique dishes like the crab cakes, quesadillas and Salmon Teriyaki, you won't be disappointed.
Local tip: when you purchase an entree of $16.99 or more, kids and eat play mini golf for free.
The atmosphere at Stoner Grille is casual and welcoming, with indoor seating plus a wonderful outdoor patio. The staff is friendly and attentive, ensuring that your dining experience is pleasant.
Stoner Grille also hosts events throughout the year, plus they regularly have live music and other events.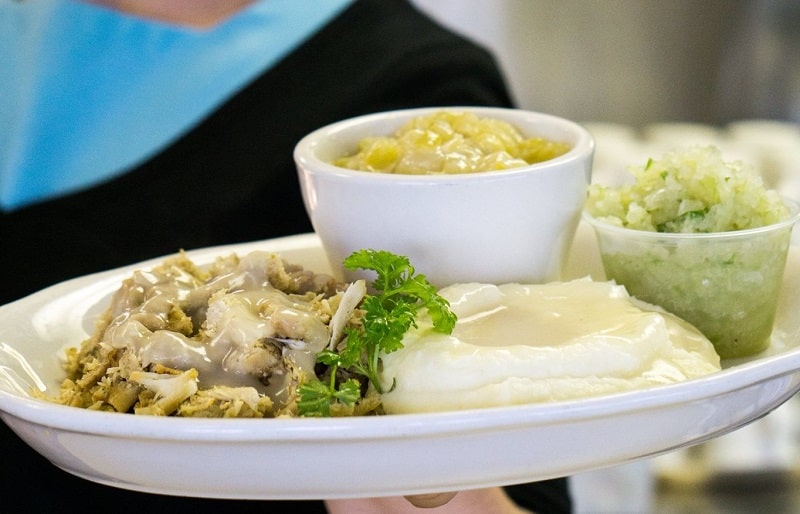 #12 Katie's Kitchen
Katie's Kitchen is right down the road from The Amish Village and is one of the best places to eat for families. We stopped here for our breakfast on our way to the Choo Choo Barn in Strasburg.
This family-owned and operated restaurant serves authentic Amish-style meals and American classics.
They have an open, relaxing family style outdoor space to eat, complete with picnic tables and playground sets.As we sat down to eat, we were surrounded by the beauty of Amish country, and it truly felt like we were part of the community.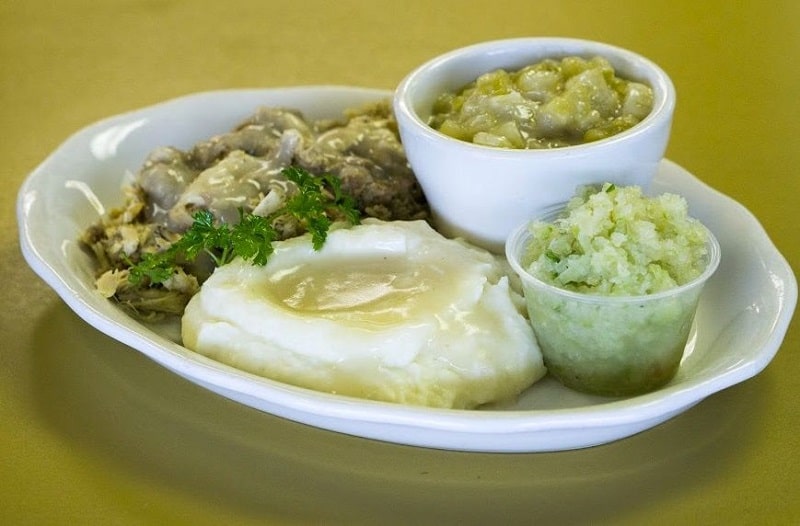 Our kids were thrilled to have a playground right next to our table, and they happily played while we enjoyed our meal.
They serve delicious food for breakfast and lunch. You can choose from meals like:
Omelets
Pancakes
Waffles
French toast
Eggs Benedict
Sandwiches
Salads
Soups
Burgers
Wraps
You can also try some of their specialties, such as the Katie's Skillet, the Reuben Omelette, the Breakfast Poutine, or the Fish Taco.
MORE EATS: 13 Authentic Amish Restaurants Near Lancaster PA
If you want to try some authentic Amish cooking while in Amish country, actually cooked by members of the Amish community, this is a great place to go. It's definitely a place to eat for any nature lover in your group and this has definitely become our go to breakfast spot.
Especially if you have younger kids with you, this is a great place to go that visitors of all ages will enjoy.
Local tip: Katie's is in close proximity to the Strasburg Railroad, Amish Village, Dutch Wonderland and several other things to do in Lancaster.
#13 Strasburg Creamery, Café, and Country Store
After leaving the Strasburg Rail Road, we went to eat at the Strasburg Creamery, Café, and Country Store. It's in such a cute building on the corner and while they have some delicious food, the highlight for my little ice cream lover was, of course, the delicious wide variety of ice cream flavors.
They have a variety of dishes to choose from, such as omelets, pancakes, waffles, French toast, sandwiches, salads, soups, burgers, wraps, and more. I enjoyed a good sandwich, and my husband liked his fried chicken, french fries, and biscuit.
It's a pretty fun place too. Nothing like ice cream, candy, jarred foods and an adorable country store that's fun to look around.
They have both seasonal flavors like: teaberry, cotton candy, chocolate marshmallow and others, as well as other permanent flavros like:
Chocolate
Strawberry
Vanilla
Black raspberry
Mint chocolate chip
Fudge swirl
Peanut butter
Local tip: if you're looking for vegan ice cream, Strasburg Creamery has vegan ice cream flavors available.
They even sell unheated and unfiltered raw honey in jars here. You can actually see the hive of bees behind glass and the entire honeycomb. It's really neat to see and watch them work.
And don't forget to pose with Mr. Peanut who stands just inside the window. Friendly service too!
#14 Casey Jone's Restaurant
After a visit to Cherry Crest Adventure Farm, we stopped in to Casey Jones' Restaurant which is located in Red Caboose Motel. We had heard about this restaurant and it sounded really fun. We weren't disappointed!
The restaurant is actually inside 2 railroad coach trains from the 1920s which is a lot of fun. It's all train themed here and you can even visit their gift shop to pick up some train novelties if you'd like.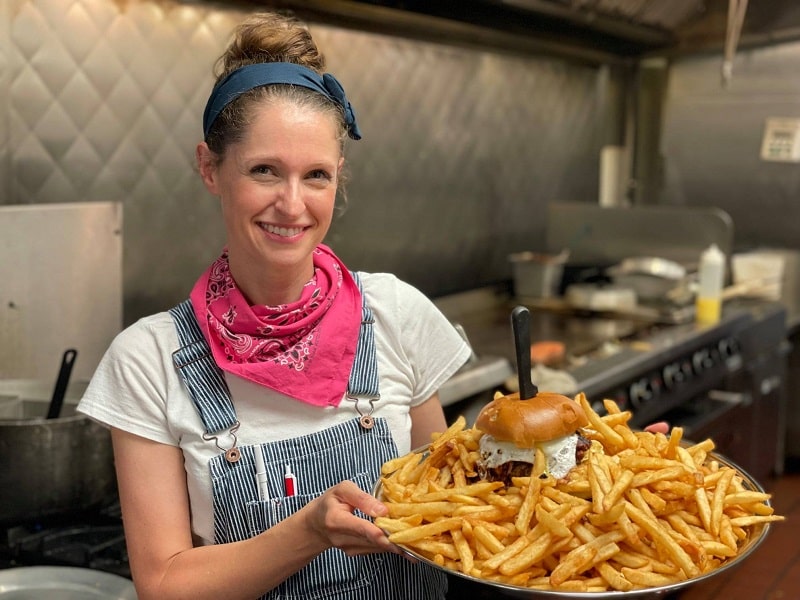 The walls are decorated with vintage railroad memorabilia, a nod to the restaurant's namesake, the legendary train engineer Casey Jones.
We even saw a train go by during our meal.
Casey Jones offers a diverse menu with something for everyone, including classic American dishes like:
Farm fresh salads
Fish & chips
Pot roast
Shepherd's pie
BBQ rips
Spaghetti
Burgers
Sandwiches
Make sure to visit the decks as well for a gorgeous view of the countryside. They also have a petting zoo with farm animals to visit when you're done eating.
Make sure to save room for the blue ribbon crumb cake, it's delicious!
#15 Tellus360
Tellus360 has a really fun atmosphere with live entertainment and is one of the best things to do in Lancaster City on a Friday night.
After a day of visiting Historic Rock Ford in Lancaster County Central Park, this place gives us a fun place to relax. It's actually a huge place with 2 floors plus a huge rooftop bar, live music performances, and an Irish pub.
The first level of Tellus360 features a lively bar and a stage for live music performances. The venue hosts a variety of musicians and bands, ranging from local talent to well-known national acts.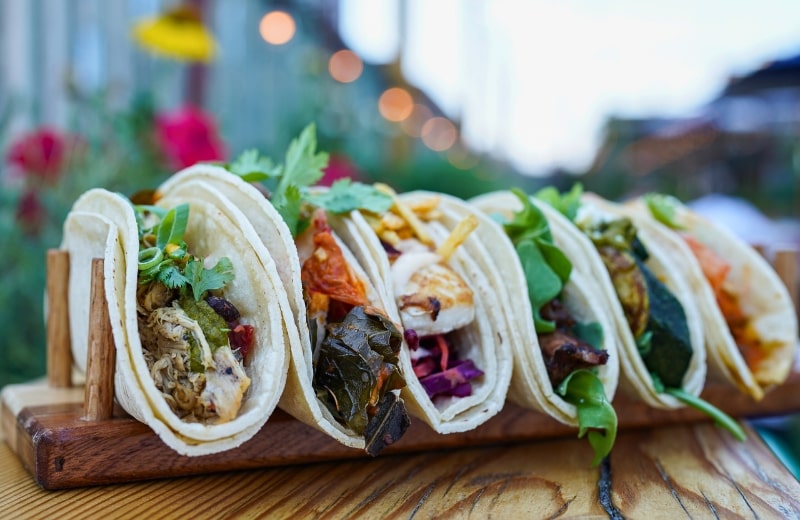 Upstairs, the rooftop bar offers stunning views of Lancaster City and a unique outdoor space to relax and enjoy drinks with friends. The rooftop bar features a rotating selection of craft beers and cocktails, and it's the perfect spot to enjoy a beautiful summer evening.
For those looking for a more traditional pub experience, Tellus360 also features an Irish pub on the lower level. The pub offers a cozy atmosphere, a selection of Irish whiskeys and beers, and classic pub fares like fish and chips and shepherd's pie.
NEARBY FUN: 47+ Fun Things to Do in Lancaster PA
Some of the vendors you will see here are:
The Landing 360: You can expect simple, seasonal, American, and European comfort food inspired by the cooking of Italy with a touch of Europe.
Psychedeli: offers sandwiches, cheese boards, munchies, salads, and seasonal sides.
Tacos del Soul: The food is fresh, funky, and fantastic. The menu comprises a variety of specialty tacos and sides that will wake up your taste buds and leave you wanting more.
The indoor levels have different rooms so it feels like you are visiting different places.
If you prefer to sit outdoors, they have a beautiful and colorful space you'll love. They even have a speakeasy on the lower level.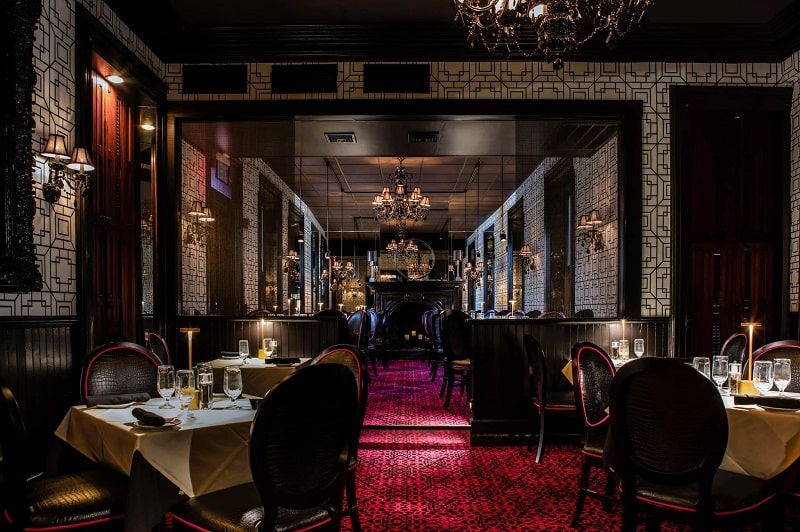 #16 The Belvedere Inn
The Belvedere Inn is one of the best fine dining experiences in the city of Lancaster.
The space is Victorian designed and has a jazz lounge upstairs. I had made a surprise reservation here one year and booked one of their private, rooftop igloos which was so much fun! They have 3 areas – downstairs, upstairs bar and the upstairs terrace.
One of the standout features of The Belvedere Inn is its impressive wine list. The restaurant has won numerous awards for its wine selection, which features over 1,000 bottles worldwide.
The knowledgeable staff is always on hand to make recommendations and help guests pair their wine with their meals.
The restaurant has a separate bar area where guests can enjoy cocktails and small plates and a private event space that can accommodate up to 80 guests.
When eating indoors, it's definitely a fine dining experience. You can dim the lights right from the table, the chairs are very comfortable, outstanding service and even live piano music that really completes the service.
#17 The Lancaster Dispensing Company
The Lancaster Dispensing Company restaurant is right inside an historic building and has the look you'd imagine with such a building.
Unfortunately, years ago there was a fire and they had to restore the interior. They did a wonderful job and it's such a nice place to eat.
They have live music every week which is fun to enjoy and you can enjoy a variety of food like:
Sandwiches and subs (try the crab cake sandwich or the LDC club!)
Burgers
Crossaint sandwiches
Fresh salads
Buffalo wings
Burritos
Pasta
Local tip: This is a good place to stop after a show at the Fulton Opera House, just a 2 minute walk away and The Demuth Museum, a 6-minute walk (or very short drive!). It can be hard to find fun places to eat on Mondays but this place is open. You can also stop by the Amish Market right next door after your meal.
#18 Decades
Located right on North Queen Street, Decades is a really fun place to just to eat great food, but also to play some fun games. They have a 6-lane bowling alley inside and old school arcade games with all the classic games you would expect. This is one of the top things to do in the area if you want to combine a meal with some fun.
You can even order a mystery drink on Wednesdays and Thursdays and you'll find out what it is in your fortune cookie.
This isn't like your typical bowling food experience. The food is actually good here! This is definitely a local favorite as well. We definitely had a great time here and will be back.
What's fun:
Retro arcade games (think 70s, 80s and 90s vintage)
Bowling
Old basketball court floors
VHS / Gaming area with a comfy sofa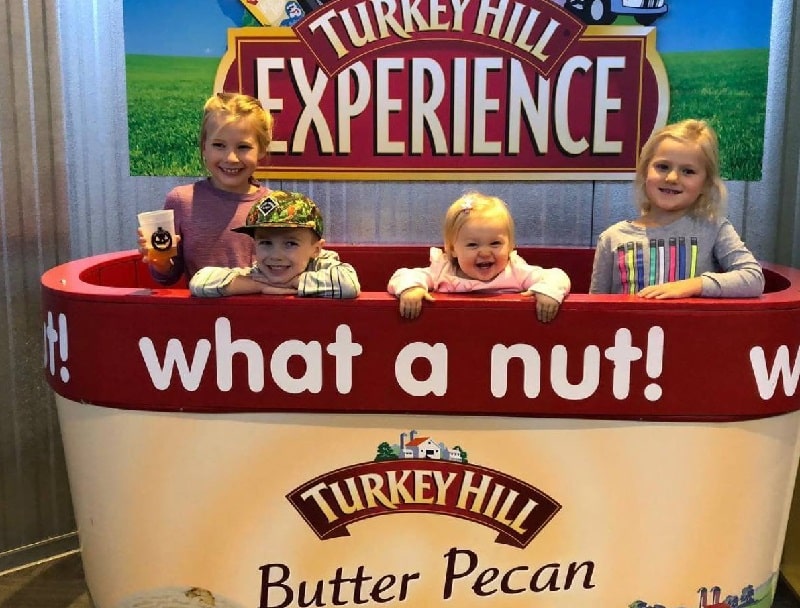 #19 The Turkey Hill Experience
Visiting The Turkey Hill Experience with my friends and our kids was an unforgettable experience that left us with sweet memories.
This Lancaster County attraction is a must-visit spot for anyone who loves ice cream, wants to learn about dairy farming and the ice cream industry or wants to have fun with friends and family.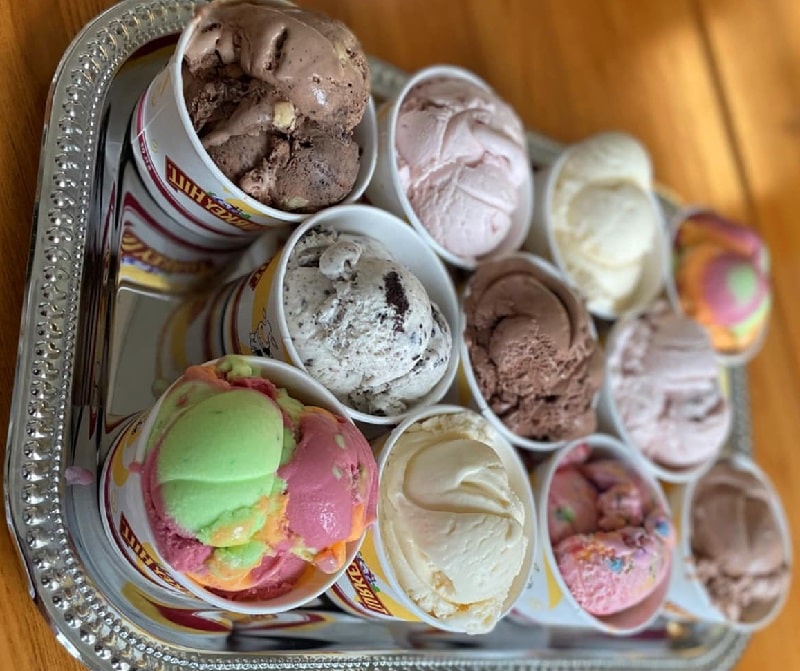 We were greeted with the inviting aroma of freshly made waffle cones as soon as we arrived. We couldn't resist stopping at the ice cream counter to try Turkey Hill's delicious and creamy ice cream, which we later discovered is made right on-site!
We were delighted to find out that we could even create our ice cream flavor in the "Taste Lab" experience.
The interactive exhibits at the Turkey Hill Experience were engaging and informative. We learned about the dairy farming process, milk production, and the history of the Turkey Hill company. One of our favorite exhibits was the virtual reality experience that allowed us to "milk" a cow and see the inner workings of the dairy farm.
We also enjoyed the opportunity to learn about the ice cream-making process and even got to design our own ice cream package label. The Turkey Hill Experience also has a gift shop to purchase Turkey Hill souvenirs, apparel, and ice cream-themed merchandise.
Our visit to The Turkey Hill Experience was a delightful experience that left us with a greater appreciation for the ice cream industry and the hard work that goes into making it.
Don't forget to create your own ice cream flavor while you're there!
#20 Lancaster Sweet Shoppe
If you're in the mood for something sweet, you can't miss the Lancaster Sweet Shoppe. This place will fix any sweet tooth!
They offer homemade baked goods and other Pennsylvania Dutch treats like:
Stroopies (authentic Dutch stroopwafels)
Groff's candies
Premium ice cream
They also have plenty of coffee, tea and fruit smoothies.
While it's all good, some of our favorites are the chocolate covered oreos, brittle, white chocolate pretzel bark, and chai stroopie.
#21 The Greenfield Restaurant
If you're looking for a more upscale dining experience, The Greenfield Restaurant is a great option.
Their farm-to-table menu features locally-sourced ingredients, including their famous lobster bisque, filet mignon, and scallops.
The chef here is a former White House shef so he's definitely got some good skills!
Located inside a former farm house from the 1700s, the restaurant serves food like:
Lobster (which is really good)
Salad with fresh scottish ssalmon, gulf shimp or other add-ins
Grilled NY strip steak
Prime pork Schnitzel
They also have some wonderful live music while we were there.
#22 Rooster Street Butcher
A popular restaurant is the Rooster Street Butcher and for a good reason.
Their handcrafted sausages, charcuterie, and artisanal meats are some of the best in the area. Their sandwiches and hot dogs are a favorite among locals and visitors alike.
They have some tables with benches and pillows which were perfect for sitting with the kids, as well as outdoor seating.
Some of their popular dishes worth trying are:
Rooster chicken burger
12oz ribeye with crispy cauliflower on the side
Butcher mule
Burgers and sandiwches
I also highly recommend trying their signature dish, The Rooster, which is a spicy fried chicken sandwich topped with homemade ranch dressed, cabbage and sweet pickles on a kaiser roll.
Which Fun Place Will You Eat at in Lancaster?
The fun restaurants in Lancaster are a perfect representation of the city's unique charm and culinary diversity.
From themed cafes to farm-to-table eateries, there is something for everyone to enjoy. Whether you are a local resident or a visitor, exploring Lancaster's fun restaurants is an excellent way to immerse yourself in the city's culture and experience its hospitality.
So, next time you're in Lancaster in South Central Pennsylvania, or even the small towns surrounding it, make sure to check out some of its fun restaurants to satisfy your taste buds and have some wonderful experiences.
More Fun Near PA Dutch Country

Discover many local Amish restaurants with farm-fresh ingredients & passed down homemade recipes
Need your Lancaster visit planned for you? We've got you covered with this list

Discover many local Amish restaurants with farm-fresh ingredients & passed down homemade recipes

Discover many local Amish restaurants with farm-fresh ingredients & passed down homemade recipes

Discover many local Amish restaurants with farm-fresh ingredients & passed down homemade recipes